Good Eggs overview
What's Good Eggs? Good Eggs is more than a meal-delivery service. It's also a grocery store. It delivers fresh, locally sourced, sustainable food, often with same-day delivery throughout the Bay Area. The company was founded in 2011 with a mission to replace the old grocery store model. They have strict sourcing standards in place. 70% of the produce they source is local. Good Eggs doesn't make you guess about the quality of the product you're getting with them. The products on offer are decidedly organic and high-quality. They work with trusted brands, who built a reputation for themselves over the years by selling great produce. This helps GoodEggs source healthy ingredients.
Good Eggs was founded in 2011 and started scaling quickly. By the end of 2015, the company was doing business in Los Angeles, New York and New Orleans. This expansion cost them everything— a near bankruptcy.
Good Eggs sells everything from local groceries to local produce, meat, fish, eggs, beverages, snacks, flowers, and fully-prepared meals. They work with the Full Belly, Say Hay, and Eatwell farms.
How's the Good Eggs website experience?
The experience begins as soon as you land on the site. When you visit the Good Eggs website, you can specify your food interests, depending on what you regularly eat, like or dislike. Based on what you specified, the site personalizes food recommendations for you. There are a lot of choices on the website. The products are organized into multiple categories. The interface is silky smooth and easy to navigate.
The meal kits are priced well.
For instance, the baked salmon and baby broccoli that serves three is priced at $24.99. That's relatively expensive considering it's enough to feed three people and that the salmon and broccoli are organic.
Inside their produce tab are the produce boxes and bulk items where you can find CSA boxes. These are cosmetically-challenged boxes whose contents may not look good, but aside from that, they're great deals—high-quality vegetables for a super-low price.
Getting Started with Good Eggs
When you order from Good Eggs, you get an offer of delivery either on Thursdays or Saturdays. There's not much in terms of customization options for the CSA order. Good Eggs has plenty of highly recommended brands known for their local produce in the Bay Area.
Good Eggs Delivery
Good Eggs delivers to homes on a $30 minimum order. There's a $60 minimum order for which you get free delivery to anywhere in the Bay Area. You need to pay $9.99 as additional delivery charges for any order value below that.
When you open the delivery box, you see a letter containing the list of what's inside. You also get a glimpse of the week's new collection, plus a list of featured new recipes for you to start cooking with.
The items inside are generally selected for their high quality. That's why they are full of nutrients.
Coming to local vegetables, here's what you get:
Chives
Basil
Parsley
Collard Greens
Cabbage
Potatoes
Rainbow chard
Red leaf lettuce
Tart cherries
Good Eggs offers a great shopping experience. You get a complete platform where you can shop for a healthy diet. You get groceries and CSAs for cheap.
Plus, what's on offer changes month after month. So that's a lot of variety in food. Some dislike this because there's no guarantee the vegetables or choices you like will be available next month. That adds a bit of uncertainty to your purchases.
You can shop for one produce box at a time rather than subscribing to a few weeks or months of CSA boxes. The process is simple. Once you order, the boxes are delivered straight to your home and if you have some grocery shopping, ordering a CSA box saves you money.
The truth is—Grocery delivery is something everyone wants to do as a business, considering its potential, but very few can do it successfully. The logistics of a successful grocery delivery business are complicated. Good Eggs made it work by keeping itself small, working with a small selection of products, and serving a small niche group of customers.
Instead of going after breakneck expansion in several regions across the United States, they chose to stay small, covering limited geography.
Good Eggs is an example of how similar startups can be successful in a time when there's stiff competition from the likes of Whole Foods.
In San Francisco, they have a 45,000 square-foot fulfillment center. Good Eggs employees start packaging fresh produce like Brussels sprouts and beets into 1 pound portions in this warehouse. This center runs 24 hours a day.
They don't stock up on 20 different brands of peanuts or offer junk food items like chips. These items don't align with the core philosophy of the business. The stock is built with one buyer persona in mind.
Who? Marissa. Marissa is their chief buyer persona, and Good Eggs has spent a lifetime analyzing her eating habits.
Marissa represents 650,000 potential customers in the Bay Area. She values quality over price when it comes to her food and is willing to pay a little more to get that kind of quality.
This small sub-niche is worth $8 billion in California. Good Eggs wants to appeal to families that regularly pitch in for large orders as a business. They are regular customers. Since 2015, Good Eggs delivers more than produces. You can buy beverages, specialties like food from Wise Sons deli, artisanal bread and cheese, handmade ice creams and other specialties. By keeping just one persona on top of their mind, they can sell everything that this particular subset of customers likes. They were able to achieve significant growth with this strategy.
Customers can also order meal kits that have marinated meats or salads. These meal kits or marinated varieties come with same-day delivery.
Next, let's look at the weekly meal selection from Good Eggs.
Weekly meal selection from Good Eggs
Spring Panzanella with Asparagus & Burrata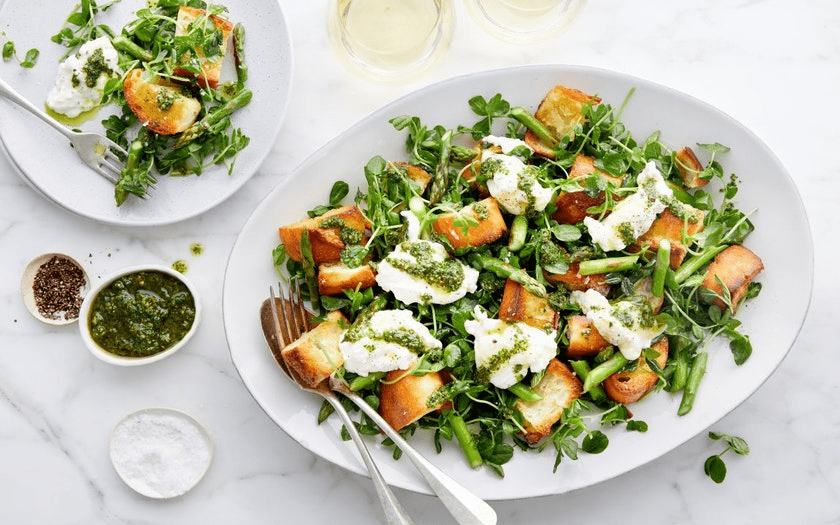 Pricing $29.99
Time to prepare: 20 minutes
How many people does it serve? Three
This spring, Panzanella with Asparagus and Buratta is made with asparagus, pea shoots, and creamy burrata and is a refreshingly new take on the classic bread salad.
What's inside the box?
Par-baked baguettes
Asparagus
Lemon
Pea shoots
Burrata cheese
Pistachio pesto
To prepare the food, here are the extra ingredients you need: Olive oil, salt, pepper and vinegar
Below each meal kit, you will find a detailed recipe for preparing that particular meal. Even though the meal kits require some prep-work and extra ingredients, you can prepare most meals in under 30 minutes.
Wild Arugula Salad with Pan-Fried Goat Cheese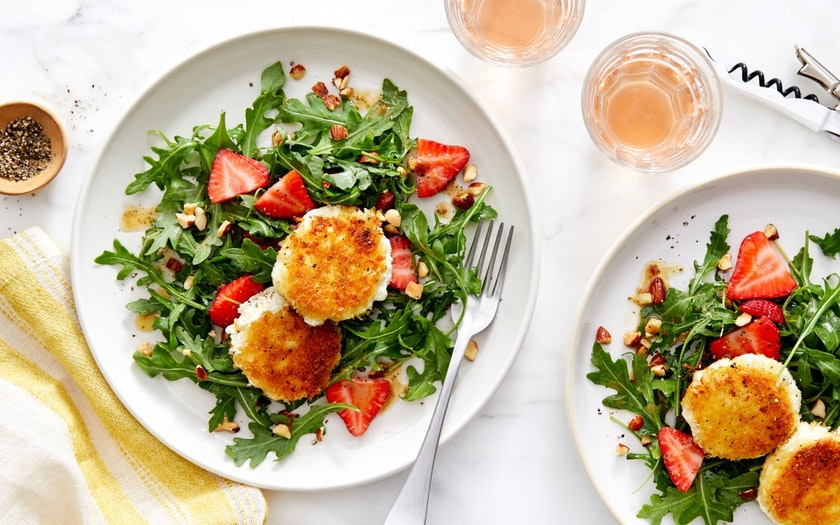 Pricing $29.99
Time to prepare: 25 minutes
How many people does it serve? Three
This Arugula salad is made with wild-sourced arugula, farm-fresh strawberries, toasted almonds, and the freshest goat cheese you can imagine. These are rolled in thyme and pan-fried.
What's inside the box?
Thyme
Goat cheese
Strawberries
Pre-washed wild arugula
Panko bread crumbs
Red wine vinaigrette
Toasted, chopped almonds
What do you need to prepare the food? You need salt, freshly ground pepper, olive oil, and all-purpose flour.
Thai-Style Chopped Salad with Tofu Nuggets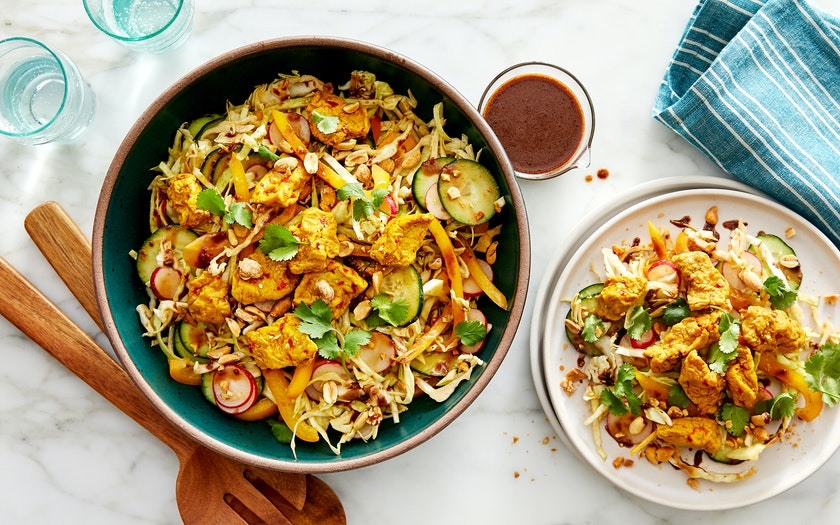 Pricing $24.99
The meal is enough for 3 servings
Time to cook: 15 minutes
This dish is inspired by a classic Thai dish and uses crunchy vegetables in place of Thai noodles. The tofu nuggets come pre-marinated and arrive fully cooked.
What's inside the box?
Cabbage
Radishes
Cucumber
Bell pepper
Cilantro
Pad Thai sauce
Lime
Thai curry tofu nuggets
Crushed, roasted peanuts
What do you need as extra to prepare the food?
Sugar
Carnitas Super Burritos with Avocado & Cheese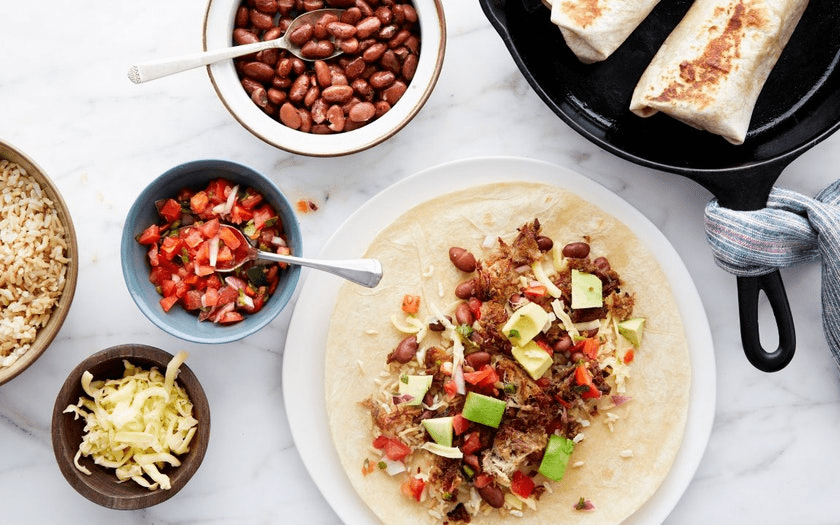 Pricing $37.99
How many does it serve?
Six
Preparation time: 30 minutes
The Carnitas super burrito is massive. This great dinner meal is made with crispy pork, slow-roasted pork shoulder, melted cheese, and avocado. Just roll the burrito on the pan for a nice, crisp, golden touch.
What's inside the box?
Slow-roasted pork shoulder (carnitas)
Pinto beans
Cooked brown rice
Avocado
Flour tortillas
Shredded jack cheese
Pico de gallo
What are the additional things you need for the meal?
Vegetable oil, salt and hot sauce for more flavor.
Brined Pork Chop with Cherries & Farro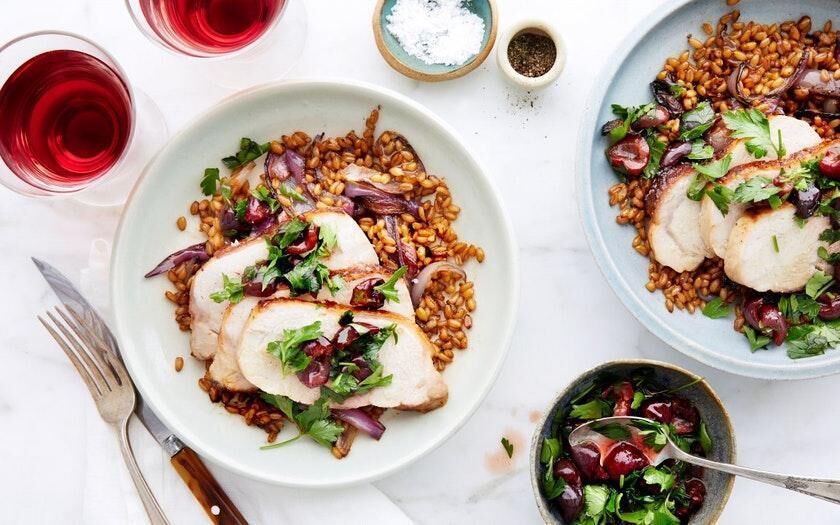 Pricing: $29.99
How many does it serve? Three
The preparation and cooking time is 40 minutes.
This brined pork chop pairs well with stone fruits like cherries. You can add a few slices of farro and add dark cherries and herbs to the mix for a great-tasting brined pork chop.
What's inside the box?
Brined pork chop
Red onion
Cherries
Parsley
Lemon
Cooked farro
What are the items you need in addition to the meal?
Olive oil, salt and ground pepper, and garlic for the additional kick.
Instant Pot Korean BBQ Pork with Lettuce Cups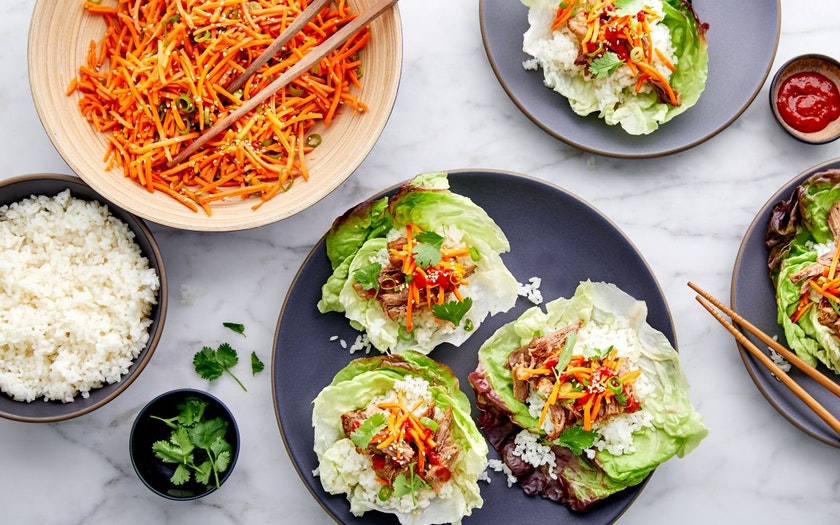 Pricing $40.00
How many does it serve? Four
How much time does it take to prepare? 30 minutes for preparation and 90 minutes in total.
Pulled pork is a classic dish, but this variant derives its flavor from a Korean red chili paste. Fold the braised pork into fresh lettuce leaves and garnish with a few pickles on top for a delicious dinner.
What do You get?
Pork shoulder (see note below)
Gochujang (Korean red chile sauce)
Green onions
Shredded carrots
Sesame seeds
Butter lettuce
Cilantro
Cooked rice
What You'll Need?
Salt
Brown or granulated sugar
Vegetable oil
Soy sauce
Rice or white wine vinegar
High-Protein Burrito Bowls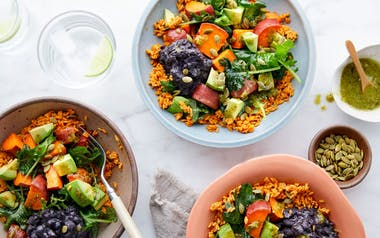 Pricing $27.99
The meal serves three people.
How long does it take to prepare?
It takes 15 minutes of preparation and 30 minutes of cooking time.
This burrito bowl consists entirely of plant-based protein. It uses lentils and chickpeas for protein. You get several vegetables like avocado, sweet potatoes and lime.
What's inside the box?
Sweet potatoes
RightRice veggie grain blend
Baby kale
Cilantro-lime dressing
Cooked black beans
Avocado
Toasted pumpkin seeds
In addition, what more do you need?
Olive oil and salt.
Skillet Mac & Cheese with Broccoli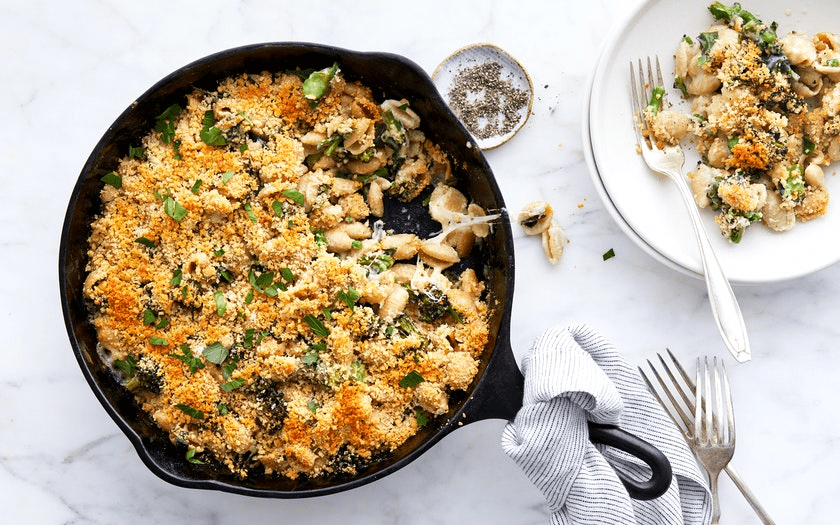 Pricing $27.99
How many does it serve?
Three
How much does it take to prepare?
10 minutes and 25 minutes in total.
A bowl of mac and cheese is extremely comforting. Together with broccoli, the dish transforms itself into a real delicacy. Plus, this is one dish that takes less than 30 minutes from start to finish.
What's inside the box?
Broccoli di Ciccio or baby broccoli
Cooked pasta
Cheddar cheese sauce
Panko breadcrumbs
Grated Parmesan cheese
Parsley
What extra ingredients do you need?
Olive oil, salt and freshly ground pepper.
Coconut Tofu Curry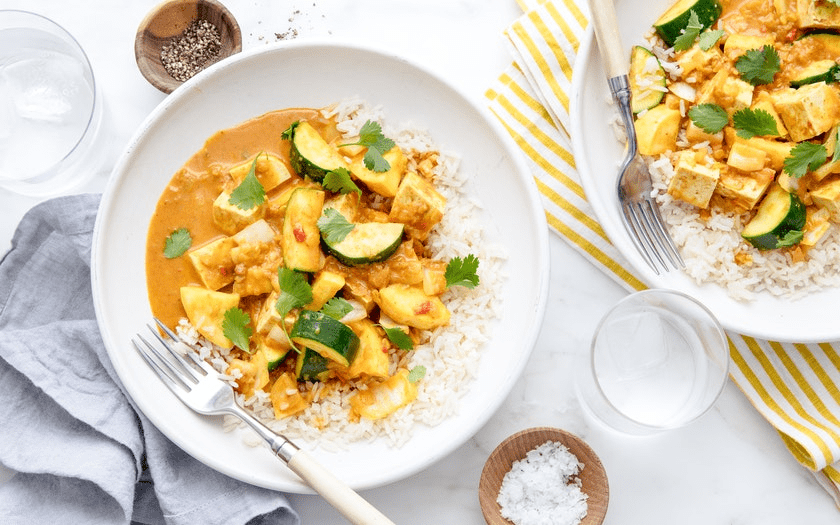 Pricing $34.99
The coconut tofu curry can serve three people
The preparation time is 15 minutes, and the total time is 15 minutes more.
This is a simple coconut tofu curry with summer squash and cooked tofu. Inspired by Southern Indian cuisine, the sauce is rich in coconut milk, tomatoes and has turmeric.
What's inside the box?
Kerala coconut simmer sauce
Mixed summer squash
Onion
Firm tofu
Cilantro
Cooked white rice
What more do you need?
Salt
Good Eggs vs Competitors
In 2018, Americans spent about $1.5 trillion on groceries. Everyone needs to eat, right?. And Good Eggs have made it extremely convenient to order items with the help of a simple app installed on your phone.
Many companies that tried to deliver high-quality groceries at artificially low prices fizzled out eventually. They couldn't keep up with the soaring costs or changing customer expectations.
Some successful grocery delivery companies like FreshDirect in New York and Ocado in the U.K. The companies are successful because delivering to those customers is easy. Urban areas have a large population living closer together in high-rise apartments. Delivering in suburban markets like the Bay Area is more complicated and costs more.
Good Eggs doesn't shy away from paying its staff well. Good Eggs pays its drivers $19/hour and offers health benefits. The cost of warehousing the goods follows high-delivery costs. That's why GoodEggs doesn't sell products for artificially low prices.
The buyer persona they developed will pay a little more than in-store prices to get farmer's market-style food delivered to her home.
Good Eggs is more about getting customers a varied number of products that you can't easily find in the average farmer's market.
Instacart and DoorDash are logistics businesses that partner with grocery stores. All they need to do is find the cheapest way to get these orders to customers. Good Eggs has a unique
service in sourcing products that aren't easy to find and getting them to customers' homes.
The traditional grocery stores stock up on thousands of products. There are multiple variations of products. The assortment of products is broad because they want to catch everyone, going after the one-size-fits-all approach. With more than $1 trillion of market value split among these brands, there's tons of competition.
Neither Amazon nor Whole Foods are focused on delivering high-quality food or using local sourcing. That means for certain customers. Whole Foods is no longer the solution.
That's where a niche product like Good Eggs can help.
Good Eggs' vegetables are sourced from farms around the area and are packaged and delivered to customers without sacrificing either quality or the freshness of the produce.
There's a demand for organic food that's rich in quality. That's why chains like Whole Foods became so successful in the first place.
The internet is full of such niche brands. However, there are too many niche brands taking funding from venture capitalists without a true picture of their market size. And perhaps that's why they fail to stay successful for long.
Good Eggs recently added an Oakland fulfillment center that's four times as big as the San Francisco warehouse. The company wants to double its workforce to 1000 employees.
Once the Oakland facility is ready, it will generate $300 million in revenue. Next, Good Eggs wants to expand to Los Angeles, San Diego and Seattle.
Good Eggs recently announced $100 million in new funding and wants to launch itself in Southern California and cover the regions there.
Good Eggs has focused itself on the San Francisco Bay Area and has found enough growth opportunities. Good Eggs says that revenue has grown to more than $100 million, with over 400 new employees added to the company.
The grocery delivery market is intense, with many players backed by millions in funding operating in the space. Good Eggs stands out courtesy of its quality service. Over 70% of the products are locally sourced. The service delivers these products to your home within 48 hours of harvesting the produce. That's an unparalleled level of commitment to freshness.
There are plenty of others offering meal preparation kits, and groceries, among others. Good Eggs has differentiated itself by accounting for 65% of the spending for home food needs for its customers, who share traits similar to the Marissa persona.
The venture funding round saw participation from GV, Tao Invest, Finistere Ventures, and Rich's, with previous investors like Benchmark partners joining in. The new funding will help the service add new products while helping optimize delivery lines.
The grocery market is shifting, with demand for high-quality products going up. Good Eggs is seeing strong growth and will lead the segment in what it does.
Pros and Cons of Good Eggs
Pros
Good Eggs delivers fresh, locally grown vegetables and meals like baked goods, cheese, fish and other items.
The produce is fresh. The produce is plucked from local farms and delivered to customers often on the same day.
The food not only tastes better but also lasts longer.
If the Whole Foods tomatoes go bad in 4 days, Good Eggs vegetables last 10 days. This means lower cost because there's nothing to throw away.
The service offers the variety you see inside a supermarket. Local produce often lacks quality control with other similar service, and tons of bad things happen that way.
Good Eggs hasn't tied itself to one farm. It works with several and can source quality food from each of them, avoiding what they don't want.
Cons
Relatively expensive
Less variety than what you would find with other services
Food is often delivered later in the day
That's why the highest quality bread, meat, and pantry items find your way to your kitchen. There's no way to get Artisan breads of the quality Good Eggs delivers anywhere in the Bay Area. And its customers often know this.
Another aspect they focus on is customer service. They often respond to feedback and complaints immediately. That's great for delivery service.
Most people who tried the service once often become lifetime customers of the service.
It's not a budget-friendly option and isn't designed to be one. I guess you get the same prices for the food as at Whole Foods. Locally grown and produced food becomes accessible as a result.
The selection of produce isn't consistent and changes from Wednesday to Saturday. So pick a delivery date based on the available selection currently on the website. If you wait too long, you may not find what you want.
Deliveries happen between 7 to 9 pm, so you can't really use the food on the same day unless you stay up late. Good Eggs