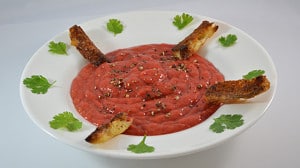 Recipe: Gazpacho with spicy tomato
Spicy tomato gazpacho recipe, a recipe to favor during hot weather. Well, I admit that for this year, we will have to organize ourselves. I served my spicy tomato gazpacho as an appetizer, in a small lion's head soup tureen. It had a great effect, I had toasted lightly garlic bread, everything was perfect. With gazpachos, it's full of vitamins, a way to consume vegetables, for children a small straw and a little water to make it more fluid and let's go. Peppered tomato gazpacho, also ideal for a picnic outside, you will surprise everyone with this cold and divinely spiced soup.
Recipe ingredients
Chili tomato gazpacho recipe for 4 people:
4 beef heart tomatoes
2 small potatoes
1 clove of garlic
15 g flat-leaf parsley
1 teaspoon of balsamic vinegar
1 knife tip more or less filled with chili puree.
½ lime
1 teaspoon ground pepper
Salt
Instructions
Coarsely crush the peppercorns in a mortar.
Rinse the parsley, then remove the stems.
Cook the wrapped potatoes in the microwave for 3 to 4 minutes.
Rinse the tomatoes then pass in the blender with the parsley.
Peel the garlic and add to the tomatoes.
Pour in the vinegar, salt.
Slice the potatoes in half, then collect the flesh and place in the blender with the other ingredients.
Mix the preparation without heating the gazpacho, rather by pulses.
Taste and adjust the seasoning.
Pour into the soup tureens.
Sprinkle generously with peppercorns.
Preparation time: 10 minutes
Cooking time: 0 minutes
Number of people: 4
4 star rating: 1 review
What wine to drink with: Spicy tomato gazpacho
My favorite wine for this recipe: Rioja grape variety Trempallino
Temperature between 15 ° and 16 °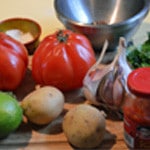 Ingredients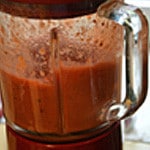 Mix with the blender