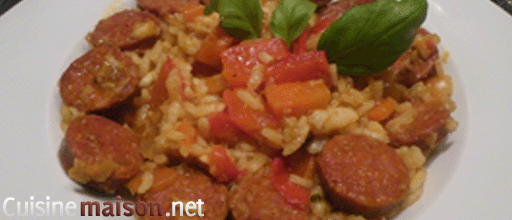 Chorizo Risotto Recipe
Chorizo risotto, chorizo risotto recipe an easy cooking recipe for everyone. I also like the parmesan risotto, the cheese can be guessed just a little. It must be recognized that the risottos and these recipes let each cook go according to their whims. What is important in the chorizo risotto is before all cooking, I like to grill the chorizo a little, in order to allow it to reject as much fat as possible. Be generous with the Parmesan, it is left hanging in a chorizo risotto, some add a spoon of mascarpone to make it even more creamy.
Chorizo risotto recipe for 4 people
Ingredients :
1 chorizo (sweet or strong)
3 tomatoes
1 onion
2 shallots
3 tablespoons of chives
1.1 / 2 glass of rice
12 basil leaves
10cl of white wine
150 g of Parmesan
2 sugar cubes
Instructions
Cut the chorizo lengthwise into 4 wedges and then into small cubes.
Grill your chorizo on a low heat so as not to burn it.
Grill the chorizo in the pan, just to remove excess fat.
Discard the chorizo fat, keeping a tablespoon.
Peel the onion and shallot cut them into small pieces.
Pour into the pan, adding the chorizo fat, add the chives, cook for 5 minutes.
Cut the tomatoes into small cubes, brown them in the pan, with the rest, cook for another 5 minutes.
Add the white wine and the 2 sugars, cook for 5 minutes then add the rice.
Add one and a half times the capacity of the rice and simmer for the time indicated for the rice.
Just before serving, pour in the Parmesan and stir well as soon as the cheese has melted you can serve.
Preparation time: 10 minutes
Cooking time: 17 minutes
Number of people: 4
4 star rating: 1 review
What wine to drink with: Chorizo risotto
My favorite wine for this Bandol (Red) recipe (Grape varieties: Carignan, Cinsault, Grenache noir, Mourvèdre)
Temperature between 8 ° and 10 °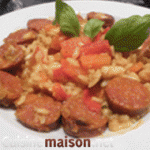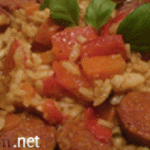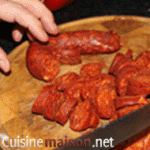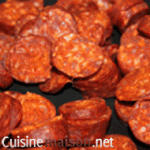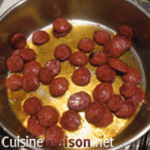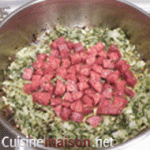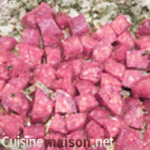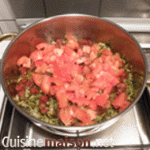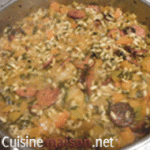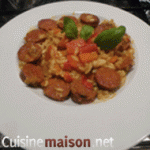 More recipes:
Spinach and chorizo risotto

Land and sea risotto

Chorizo soup

Risotto with andouillettes
chorizo
onions
Parmesan cheese
tomatoes Pascal
A comment

Hide reactions

very very good !!! it is just missing in the title of the recipe that it is one and a half times the volume of rice in water! extra recipe
Your reactions / questions / tips: Cancel reply
Remark
Name *
Email *
Website
</p