Recipe: Cod pasta
Cod Pasta Recipe, for everyone to enjoy at home, they love pasta in all its forms. Usually I make fresh pasta, but now they wanted to eat spaghetti, I can't make them. Deliciously flavored pasta with chorizo and basil, which I saved from this summer. The chorizo also colors the fish it makes beautiful color contrasts with the spaghetti and basil leaves.
Recipe ingredients
Cod pasta recipe for 3 people:
250 g of spaghetti.
200 g cooked cod
1 scoop of Ducros rice food coloring (optional)
70 g of chorizo
1 shallot
20 small basil leaves
1 teaspoon of Séchouan red pepper
¼ lemon
10g butter
1 teaspoon of olive oil
Salt
Instructions
Cook the pasta in a large volume of salted water and the food coloring.
Drain the pasta and oil them with a little olive oil.
Remove the leaves from the cod (I had cooked it in a broth the day before)
Peel then finely chop the shallot.
Remove the skin from the chorizo.
Cut the chorizo in quarters lengthwise, then into small wedges
Heat a pan with the butter and oil.
Let the chorizo color.
Add the shallot.
Then finally the cod, just to heat it.
Pepper with Séchouan pepper just before serving.
Sprinkle the basil leaves.
Preparation time: 20 minute (s)
Cooking time: 10 minute (s)
Number of people: 4
4 star rating: 1 review
What wine to drink with: Cod pasta
My favorite wine for this recipe: Côte de Blaye Blanc Grape variety: Sauvignon blanc, Muscadelle, Sémillon
Temperature between 08 ° and 10 °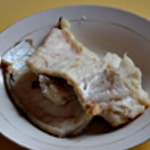 Cooked cod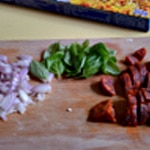 Cut the chorizo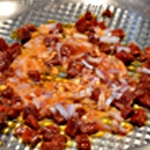 Sear the chorizo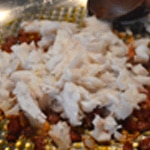 Add the cod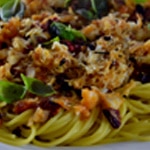 Zoom