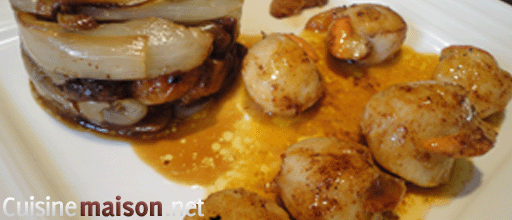 Recipe of scallops with clementine juice
Recipe with scallops, salty and sweet, be careful when cooking, the scallops should not overcook. . Cooking with scallops is always a pleasure at home to taste these young sea ladies. To cook scallops, nothing could be easier than this recipe, they do not require a great mastery of the kitchen, however, be careful with the cooking .. The scallops, you must watch the cooking. love this recipe, perfect for the holiday season.
Recipe of scallops with clementine juice for 4 people
Ingredients :
16 scallops with their coral
8 endives
4 tablespoons of olive oil
70 gr of sugar
80 g butter
15 clementines
Instructions
Squeeze the juice from 5 clementines and set aside.
Cut the chicory in half and remove the section.
In a hot pan, add 40 g of butter then the endives cut sides on the pan. Cook for 7 to 8 minutes.
Turn the endives over, sprinkle with the sugar. Simmer 10 to 20 minutes so that the endives are confit. Then sprinkle with the juice of 5 clementines and let evaporate.
Peel the 6 remaining clementines, divide the clementines into quarters, push the endives into the pan and add the clementines to the butter for 2 minutes, then turn the
clementines and cook gently for another 2 minutes.
Prepare the assembly of your ramekins by starting with 4 clementine quarters, then the chicory.
Pack the ramekins a little and finish with the remaining juice. Put in the oven at 80 ° to keep warm.
Squeeze the juice from 4 clementines and set aside.
In the hot pan add the remaining butter, toast the scallops for 1 to 2 minutes on each side, pour the clementine juice into the hot pan and arrange the plates.
Preparation time: 10 minutes
Cooking time: 20 minutes
Number of people: 4
4 star rating: 1 review
What wine to drink with: Scallops with clementine juice
My favorite wine for this Rully blanc recipe Grape variety: Chardonnay
Temperature between 8 ° and 9 °
Thanks to Cathy for her recipe which really inspired me