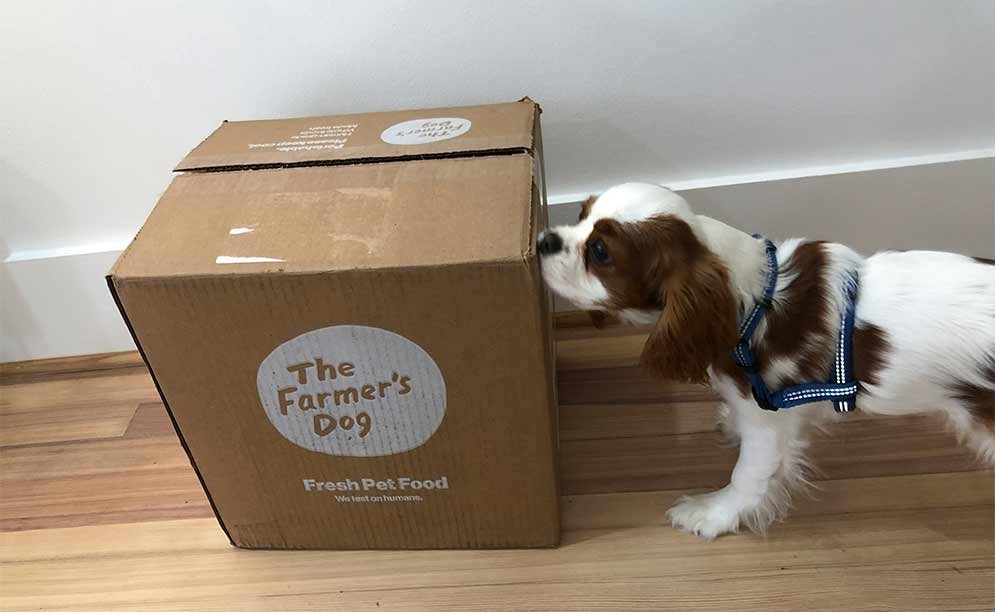 Going through some ingredients labels on some dog foods can leave you scared. At times, the labeled constituents contain names that can be hard to pronounce and may be manufactured via processes that are hard to trust. However, when buying my dog food, I always ask myself, if I wouldn't eat it, why should my dog? Fortunately, The Farmer's Dog has an exceptional response to my dog food worries.
The company was concerned by the high production of processed and low-quality foods. Therefore, they decided to make an exception by incorporating human-grade ingredients into specially formulated dog recipes, enabling them to create a healthier and nutritious option for pet owners.
The Farmer's Dog is driven by its motto, "simple recipes, guided by science, and driven by love." Besides, the company delivers its freshly made pet food to its customers' doorsteps. Its success has made it feature in notable media outlets including Forbes, Vogue, CBS News, Wall Street Journal, and Fast Company.
Besides, The Farmer's Dog ventured into the business earlier and has maintained its high reputation for transparency. As a result, the brand has a massive social media following (143K Instagram followers and 71k Facebook followers).
In my recommendation for a reputable fresh dog food store, The Farmer's Dog is a top pick. The company makes sure that you are not the only one eating healthy. With their easy dog food delivery, the review will enable you to learn about The Farmer's Dog Company to decide if it is the best in the market.
The Farmer's Dog Overview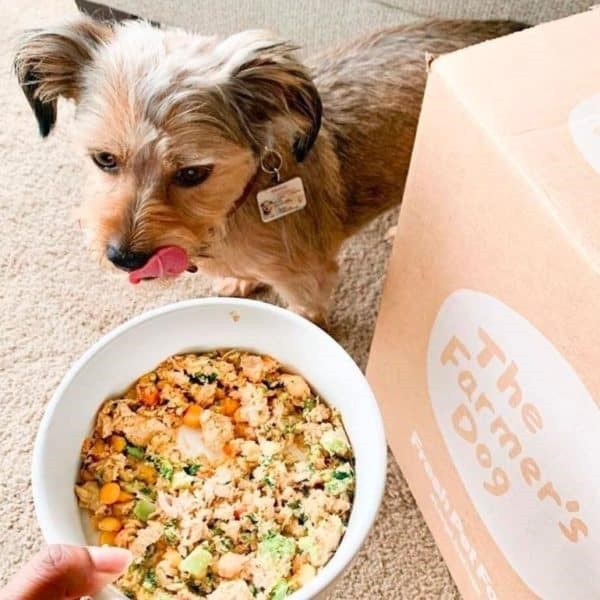 To keep it simple, whenever you see The Farmer's Dog stamp, bear in mind that the delivered food is:
Freshly made
Vet-approved
Human-grade
Prepared in USDA kitchens
According to the company's founders, the introduction of personal taste-testing has been the only conceivable way of checking the food's quality. However, akin to human food, The Farmer's Dog has its share of pros and cons, and our review will genuinely focus on everything. The review is based on my experience as a dog owner, research, and careful analysis of numerous customer reviews.
How Does the Farmer's Dog Work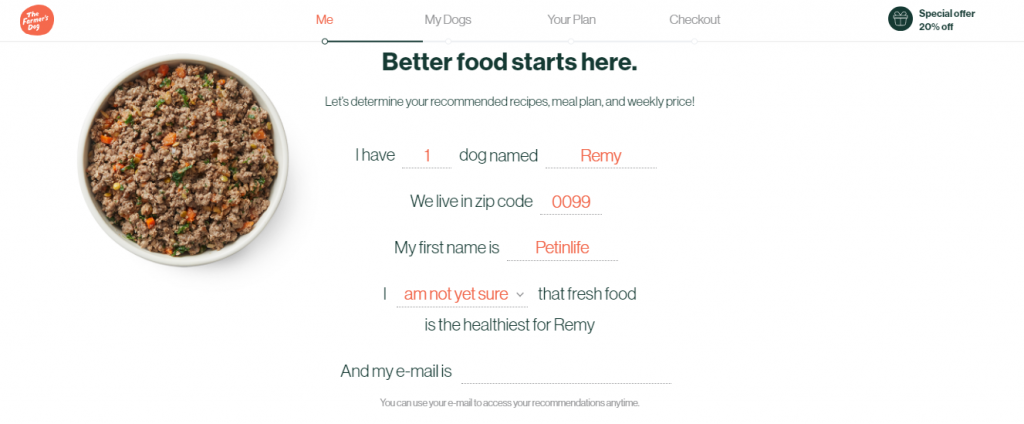 To process of ordering at The Farmer's Dog starts with a simple signup process. Here, you create an online profile in a process that takes less than 10 minutes. You are required to input your name, zip code, contact details, and some info regarding your pet, including their age, breed, sex, and weight.
After keying in the required details, the next step involves providing information regarding your pet. Here's what I provided for my dog, Remy:
Behavior (stubborn, loyal)
Activity level – not very active
Body type – skinny, chunky
Eating habits – can be picky
Routine diets – homemade, fresh, wet, dry food
Health issues
Exercise – 1 hour daily walks
FAQ Page
The information helps the company determine the ideal calories intake for your pet. In my case, Remy was recommended 270 calories per day, and I had a three-recipe list to pick from – turkey, beef, chicken.
The company offers a 2-week taste trial, starting a week of customers choosing their plan and placing an order. The end of the trial period sees your selected plan billed and shipped every eight weeks.
The Farmer's Dog ensures that their deliveries are timed so that customers never run out of food. However, there's also an option to customize the delivery frequency and cancel whenever you want.
The delivered food arrived in ice frozen packages. The meal is also pre-proportioned to avoid overfeeding. Besides, the company freezes the bags flat to ensure they take minimal space in the freezer.
Common Recipes
The Farmer's Dog offers customers four recipes to pick from, including chicken, beef, turkey, and pork
The Farmer's Dog Cost
The Farmer's Dog meal plans start at $2 per day. However, the cost depends on the dog's weight, age, and activity level. The recommended food quality at The Farmer's Dog is based on your dog's weight. Therefore, you can know the exact requirement and pricing by filling the company's questionnaire.
Remy's meals were priced at $30 per week. However, the cost was relatively high, and it felt like those with bigger or more dogs could find The Farmer's Dog as a very expensive option. All in all, 25lb dogs have their meal prices ranging from $4 to $5 per day and $8 to $9 per day for a 55ld dog.
Unfortunately, those with 60-pound dogs can end up paying over $70 per week and $280 per month. However, the company offers a 100% satisfaction guarantee and sends other recipes when your dog fails to like the initially sent meals. In addition, buyers have the option to request a refund if they donate the food to a shelter.
The Farmer's Dog Pros
A chance to pick from four healthy recipes
Personalized plans
Auto-shipping where buyers can adjust their delivery frequency and cancel anytime
Pre-portioned meals
Human-grade meals
Free shipping
Eco-friendly packaging
Cons
Relatively expensive
Perishable and requires refrigeration
Limited protein options
About Us Page
Reasons to Consider Fresh Food
Feeding your dog right will enable you to keep your pet healthy – free from dental diseases and obesity. In addition, many fresh foods contain well-labeled ingredients, enabling you to choose the right constituent for your dog. Fresh foods are also highly nutritious.
What Are Customers Saying About the Farmer's Dog
Based on the numerous reviews I analyzed, customers were pleased with The Farmer's Dog's fresh foods since they improved their dog's digestion, boosted their immune system, improved coats, and increased their pet's vitality.
Final Verdict
My analysis and review of The Farmer's Dog come after a comprehensive analysis of customer reviews, research, and personal experience with the company's products. After creating an online profile, the meals were delivered on time, and my dog liked them.
The packaging was incredibly done and the meals pre-portioned into enough content for daily feeding. I noticed that feeding my dog with fresh food reduced itching and improved Remy's poop, indicating improved health.
Thus, I recommend The Farmer's Dog food to all pet owners. However, the meals can be expensive for those with several dogs. In addition, buyers only have four recipes to pick from.
Regular Text Link – 50% Off