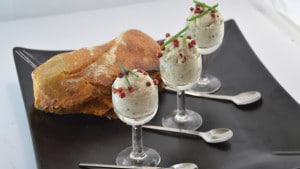 Recipe: Cod rillettes
Recipe for cod rillettes, a nice and fresh starter. I served it in small stemmed glasses, just an appetizer for everyone to enjoy. Cod rillettes, ideal for an aperitif dinner, a little thought for students just an oven or even a microwave and a fork to make these cod rillettes. I think you already know that at home we are very fond of this fish. Cardamom delicately perfumes these cod rillettes, it spices them up a little. The zest just brings a little acidity, be careful to add it gradually so as not to overwhelm the other flavors. I could have served them with toast, but for this recipe I chose a country loaf instead. I used the tail of a large cod, be careful when you thin the cod, there should be no bones left. Remove the brown parts of the flesh and keep the flesh white.
Recipe ingredients:
Cod rillettes recipe for 6 people:
480 gr of cod in chunks
½ teaspoon of Cubed tail pepper
½ teaspoon of pink berries
2 turns of nutmeg
1 tablespoon olive
45 gr of light natural cheese
1 large tablespoon of cardamom seeds
½ lime
10 sprigs of chives
Instructions
Preheat the oven to 150 °
Wash and dry the chives.
Slice the cod section in half.
Oil a baking dish.
Place the section in the dish on the skin side.
Season generously with salt and pepper.
Grate the nutmeg directly over the fish.
Bake for 15 minutes.
Meanwhile, crush the cardamom shells with a pestle.
Collect the seeds in the hulls.
Go through a mortar, crushing these small seeds as much as possible.
Switch to Chinese in order to recover only the powder.
Remove the leaves from the cod, removing all the bones.
Directly in a colander, in order to evacuate the water which remained in the fish.
Keep only the tastiest white part of the fish.
Transfer the flesh to a bowl.
Add the cheese, I chose a neutral cheese.
Zest the lime, without adding any juice.
Finely chop the chives with a knife, then add.
Put the pepper and pink berries in a mortar.
Mix the rillettes with the barely cooked fish
Taste and correct if necessary.
Preparation time: 30 minutes
Cooking time: 15 minute (s)
Number of people: 6
4 star rating: 1 review
What wine to drink with: Cod rillettes
My favorite wine for this recipe: Alsace Pinot Auxerois blanc Cépage Auxérois
Temperature between 08 ° and 10 °
Cook the cod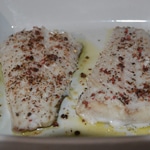 Cooked fish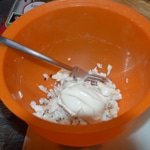 Mascarpone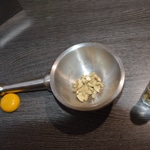 Cardamom seed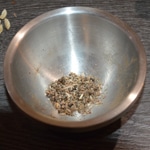 Crush with mortar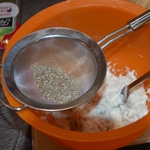 Filter the cardamom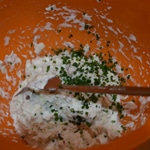 Add the herbs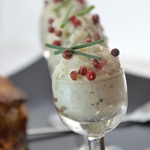 zoom<img src="/wp-content/uploads/2021/09/3571500653009560671.jpg" class="aligncenter"