Recipe: Crème brûlée with mirabelle plum
Creme brulee recipe with mirabelle plum, impossible to miss. Mirabelles are everywhere in my village, on every street corner they can be found for sale. I like the moments under the mirabelliers when it's still hot and you pick up this fruit soaked in sugar and heat. Mirabelle plums are suitable for many dishes, clafoutis and of course crème brûlée with mirabelle plum. An easy dessert to make which is rather prepared the day before, pay attention to its cooking, it is surely the most delicate part of this dessert. At home they are all fond of this crème brûlée with mirabelle plum.
Recipe ingredients
Mirabelle crème brûlée recipe for 6 people
½ liter of quality liquid cream
2 egg yolks and 1 whole
70 g sugar
18 beautiful mirabelles
6 teaspoons of brown sugar
Instructions
Rinse the mirabelle plums, then dry with food paper.
Pit the mirabelles by cutting them in half.
Distribute three mirabelles per ramekin.
Pour the fluid cream into a salad bowl
Break the eggs into the bowl.
Add the powdered sugar and mix everything
Distribute the cream among the ramekins.
Put in a bain-marie, cold water at the start, oven at 185 °, for ½ hour,
Be careful, this is the hardest cooking in crème brûlée. It should never boil very hard, just a few air bubbles on the surface and your cream is ready.
Let cool and put in the fridge.
Burn the cream just before serving with brown sugar and a blowtorch.
Preparation time: 10 minutes
Cooking time: 30 minutes
Number of people: 4
5 star rating: 1 review
Which wine to drink with: Crème brûlée with mirabelle plum
My favorite wine for this Alsace pinot gris recipe Grape varieties: Pinot gris
Temperature between 08 ° and 10 °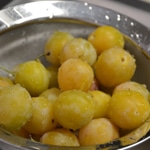 Rinse the mirabelles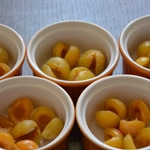 Slice the mirabelle plums in half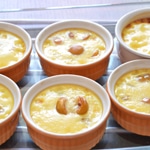 Pour the cream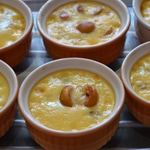 Cooked cream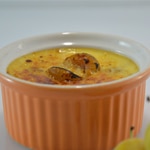 Zoom