Recipe: Grilled prawns
Recipe for barbecue prawns, cooked for a few minutes, they will be divinely flavored with Espelette pepper and basil leaf. Prawns, often they are frozen, but if you let them thaw gently, it does not affect the quality of the prawns. I also like them flambéed or in sauce. Ultimately I love all prawns however I cook them. The prawns, queen of prawns, slightly tiger, they are divinely crunchy.
Recipe ingredients
Grilled Gambas recipe for 2 people:
10 beautiful prawns (I used frozen)
10 basil leaves
10 thin strips of plain breast
16 cherry tomatoes
1 large pinch of Espelette pepper
Salt and pepper
Instructions
Destroy the prawns.
Remove the black hose.
Rinse and then dry the basil leaves.
Sprinkle the prawns with Espelette pepper, salt and pepper.
Dress each prawns with a basil leaf.
Assemble the skewers with a stainless steel pick.
Alternate cherry tomatoes and prawns.
Heat a baking sheet on the barbecue.
Lightly oil the baking sheet (optional if the baking sheet is non-stick)
Cook the prawns on both sides.
Return the prawns as soon as they have taken on a beautiful pink color, they blush with pleasure.
Number of people: 2
4 star rating: 1 review
What wine to drink with: Grilled prawns
My favorite wine for this recipe: White Minervois Cépage Maccabeu; white grenache; Bourboulec
Temperature between 08 ° and 10 °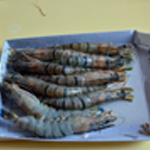 Defrost the prawns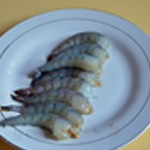 Destroy the prawns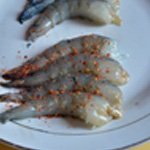 Spice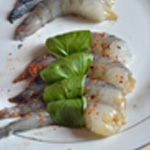 Dress with basil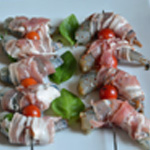 Assemble the skewers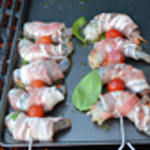 Cook the prawns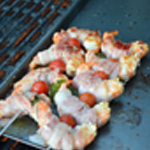 Gently turn over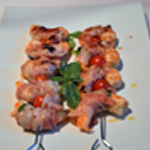 cooked prawns