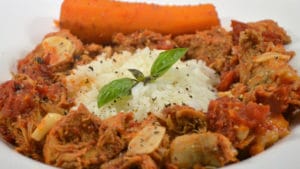 Tomato Double Fat Recipe
A recipe to be enjoyed with papi René, my children don't like, even with tripe that has cooked overnight. So I take advantage that my daughter is on vacation with her mother to make me a nice double fat with tomato. Divinely scented with sweet paprika, I took great pleasure in preparing it, an easy recipe to make and also very reasonable in price. I served my tomato double fat with white rice, a nice contrast of colors with this rice. I still have 500 gr in my freezer, indeed I was a little wrong in the capacity of my cast iron casserole dish, so I will present you other recipes than this beautiful recipe for double fat with tomato.
Double fat tomato recipe for 3 people
Ingredients
500 g of double fat (or pre-cooked).
1 can of peeled tomatoes
2 carrots
2 cloves garlic
2 large onions
1 bunch of flat-leaf parsley
1 teaspoon ground pepper
20 cl of dry white
Instructions
Peel the onions and garlic
Cover the tripe with a volume of salted water, put the lid on.
Add an onion cut in 4 and 2 peeled and halved carrots.
A tablespoon of peppercorns.
Cook for 6 hours on low heat (you can avoid this step by buying it pre-cooked)
Thinly slice the onion.
Heat a spoonful of olive oil in a Wok.
Sear the onion and garlic.
Deglaze with the white wine.
Add the tomatoes, dilute the tomato paste, then add the.
Cut the double cooked fat into strips.
Add the double fat to the tomatoes.
Sprinkle the paprika and incorporate it into the tomatoes.
Simmer for 45 minutes.
Preparation time: 30 minutes
Cooking time: 6 hours 45 minutes
Number of people: 4
4 star rating: 1 review
What wine to drink with: Tomato double fat
My favorite wine for this Coteaux du Lyonnais red recipe Grape varieties: Gamay
Temperature between 14 ° and 16 °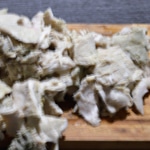 Slice the double fat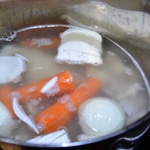 Cook the double fat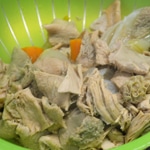 Double cooked fat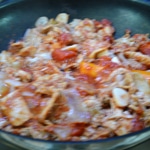 Add the tomato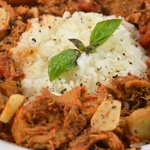 Zoom