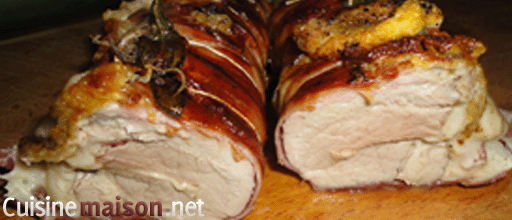 Barbecue pork tenderloin recipe
Pork recipe, this barbecue pork tenderloin is a great piece, be careful when cooking it must remain a little pink. This barbecue recipe with pork tenderloin with raw ham, the tenderloin will be deliciously flavored, the Comté will overflow a little. Raw ham and Comté cheese from Franche Comté, for this devilishly flavored recipe, another way to eat with the barbecue, the meat will be tasty and still soft.
Barbecue pork tenderloin recipe for: 4 people
Ingredients :
1 Beautiful pork tenderloin
200 g of raw ham (ham from Luxeuil)
20 sage leaves
200 g of aged Comté
Instructions
Trim the pork tenderloin, cut it in half and open it.
Stuff with cheese, cut into 1 cm thick strips. Close your mignon by reforming it. Bard
your fillet with the cured ham by tightening the slices well to make a very waterproof covering.
Tie up every 2 cm, adding sage leaves.
Cook gently on the barbecue plate, turning it regularly.
Preparation time: 30 minutes
Cooking time: 10 minutes
Number of people: 4
4 star rating: 1 review
What wine to drink with: Barbecue pork tenderloin
My favorite wine for this recipe Serious grape variety: Merlot, cabernet sauvignon, cabernet Franc
Temperature between 15 ° and 17 °