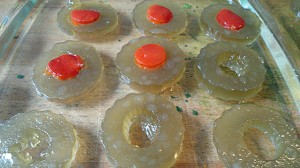 Recipe: Homemade jelly
Homemade jelly recipe, a fairly easy recipe to make, the only problem is the time, you need a little patience. The homemade jelly once tested, it is difficult to use a store-bought jelly. Nothing could be easier then to make a calf's foot in jelly or terrines, or aspics… Homemade jelly to decorate, cut it with cookie cutters, cut the center of the circle and replace it with a heart of red pepper.
Recipe ingredients
Homemade jelly recipe: for 10 people
1 calf's foot, cut in half
3 leeks
1 turnip
2 onions
1 tablespoon of peppercorns
2 tablespoons of port.
37 cl of white wine
1 bouquet garni
2 cloves
2 large veal bones
1 bacon rind
1 bone marrow.
1 liter of water
Instructions
Rinse the vegetables.
Peel the carrots, then cut them into 1 cm slices.
Peel the turnip, then cut it into 1 cm rounds.
Peel the onion, then prick it with the cloves.
Prepare the leeks, then cut them into 1 cm rounds.
Rinse the calf's foot with plenty of water.
Place the vegetables in a large Dutch oven.
Place the calf's foot on the vegetables.
Pour the port over the vegetables.
Pour the white wine.
Pour the water, the vegetables should be covered.
Gently simmer the vegetable broth for 2:30 hours.
Filter the preparation using a colander.
Pass the juice through a Chinese.
Reduce the broth to the desired amount of jelly.
Let stand overnight in the refrigerator.
Remove the layer of fat on top.
Your jelly is ready.
I pour the jelly in a plastic tray to a height of 1 small cm.
Refrigerate the jelly on the tray.
Cut out your jelly with cookie cutters.
Preparation time: 10 minutes
Cooking time: 2 hours and 30 minutes
Number of people: 10
4 star rating: 1 review
What wine to drink with: Homemade jelly
My favorite wine for this recipe C: Savagnin blanc grape, Chardonay, Pinot blanc
Temperature between 11 ° and 12 °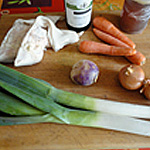 Ingredients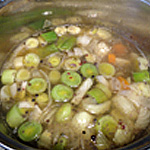 Let it shudder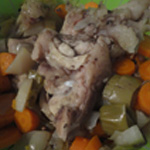 Pied-Cuit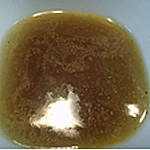 Pass-to-chinese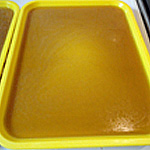 Let cool