Indian Chicken Recipe
This time, Florence is in charge of the barbecue, but we follow her. Immediately, we feel that the cuisine will be a little more exotic than our last tests directly imported from the States. So she chose an Indian Chicken. Definitely, this period during the construction of the terrace allowed us to discover lots of new recipes with different flavors. I really liked this Indian Chicken, I would have liked it a little more spicy, but I admit that sometimes I abuse it a bit. Thank you Florence for making me discover new flavors with this Indian Chicken, I will start again with a curry, strong enough, just to test. Be careful with farm chicken, you have to watch the cooking time, it is often much longer than chickens bought in supermarkets.
Indian Chicken Recipe for 6 people
Ingredients
6 Large farm chicken thighs.
400 ml coconut milk
40 g of ginger
½ teaspoon of cinnamon
3 cardamom pods
1 teaspoon ground coriander
1 natural yogurt
1 clove of garlic
2 level teaspoons of mild yellow curry
1 level teaspoon ground ginger
2 cm of grated fresh ginger
1 organic lemon
Instructions
Drain the cardamom pods.
Blanch the chicken thighs in a large volume of boiling water for 15 minutes.
Prepare the marinade by first pouring the coconut milk into a bowl.
Add the cinnamon.
Grate the ginger.
Squeeze the lemon.
Loot the coriander and the cardamom seeds.
Peel and then squeeze the garlic.
Add the yogurt.
Salt and pepper.
Mix the sauce well.
Take a large plastic bag.
Pour the sauce and the chicken into the bag.
Close tightly, and turn it regularly to coat the chicken with the sauce.
Refrigerate overnight directly from the bag.
Cook on the hot barbecue for about 1 hour (be careful we had a farm chicken)
Use the top grill instead, so that the chicken is not directly in contact with the flames.
Preparation time: 20 minutes
Cooking time: 120 minutes
Number of people: 6
4 star rating: 1 review (s)
What wine to drink with: Indian Chicken Recipe
My favorite wine for this Côtes de Toul recipe Grape varieties: Pinot noir
Temperature between 8 ° and 10 °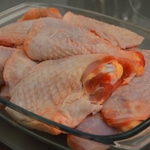 Trim the chicken
Cook the chicken in a broth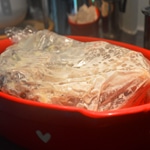 Leave to marinate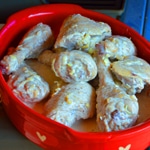 Ready for cooking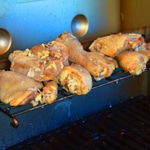 Grill on the barbecue