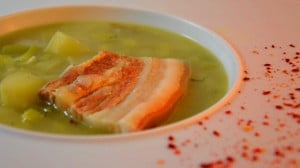 Recipe: Leek and bacon soup
Leek and bacon soup recipe, a fairly light soup to consume without moderation, it is divine scented by the smoked breast. An easy recipe to make in a few minutes, to give it a little more flavor, I sautéed the leeks in a little butter. A leek and bacon soup to start the New Year.
Recipe ingredients
Leek and bacon soup recipe for 4 people
800 g leeks
100 g of smoked bacon
400 g of potatoes
1 large teaspoon of Guérande
40g butter
2 turns of a pepper mill
4 turns of nutmeg mill
1 liter of water
Instructions
Peel and wash the potatoes, cut them into small pieces.
Prepare the leeks by slitting them in half and rinse them under cold water.
Finely slice the leeks.
Heat the butter in the saucepan.
Sear the leek for a few minutes.
Reserve the leeks.
Pour the water into the saucepan and season with salt.
Add the smoked brisket and potatoes, cook until boiling.
Add the leeks and cook for 20 minutes.
Preparation time: 20 minutes
Cooking time: 22 minutes
Number of people: 4
4 star rating: 1 review
What wine to drink with: leek soup with bacon
My favorite wine for this Beaujolais (red) recipe Grape varieties: Gamay
Temperature between 11 ° and 12 °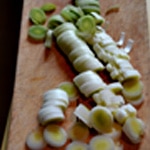 Slice the leeks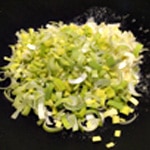 Rinse the leeks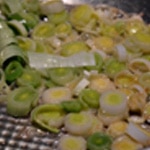 Sear the leeks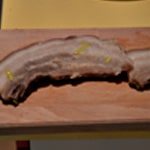 Slice the breast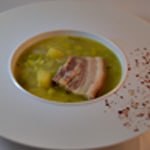 Zoom