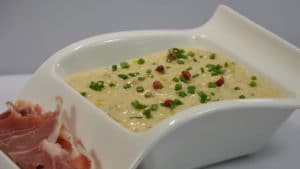 Gorgonzola Mascarpone Sauce Recipe
A nice sauce to accompany pasta, this time it won't be homemade, I didn't have enough time and Léonie had bought some small pasta. It was Léa who came to the house for lunch who made her menu. I really like Mascarpone with Gorgonzola for sauces, it is a cheese with a lot of flavor but also a nice sweetness, which is often appreciated by children. Mascarpone sauce with Gorgonzola an easy recipe, ready in a few minutes, it can accompany your pasta but also poultry or rice. The leeks added a little sweetness to this lovely sauce, but their flavors divinely perfumed my Gorgonzola sauce. A deliciously thick sauce that covered my pasta to perfection. I still had a base of Crémant d'Alsace, I took the opportunity to finish it, it is the base of this Gorgonzola sauce.
Gorgonzola Mascarpone sauce recipe for 3 people:
Ingredients
1 leek white
3 small cloves of garlic
5 g chives
30g butter
22 cl of Crémant d'Alsace
250 g of Mascarpone with Gorgonzola
30 g parmesan
Instructions
Peel and finely mince the garlic
Peel then rinse the leek white, then mince it finely.
Heat the butter and add the leek whites and garlic.
Let them cook for a few minutes so that they become translucent.
Deglaze with the wine and reduce, almost dry.
Pour in the milk and cream, reduce by half.
Cut the Gorgonzola into small cubes, then add to the cream.
Mix with a wooden spoon to incorporate the cheese.
Grate the Parmesan directly over the sauce, stir again to incorporate the Parmesan.
Season generously with salt and pepper.
Add just before serving the chives, washed and chopped.
Preparation time: 30 minutes
Cooking time: 20 minutes
Number of people: 3
4 star rating: 1 review
What wine to drink with: Mascarpone sauce with Gorgonzola
My favorite wine for this recipe: Crémant d'Alsace Cépage Auxérois, Pinot gris and white
Temperature between 08 ° and 10 °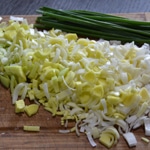 Slice the leeks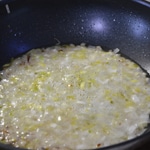 Sear the leeks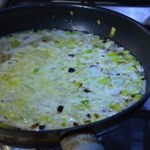 Add white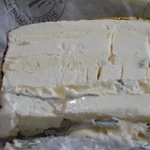 The Gorgonzolas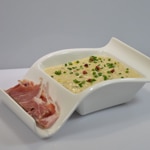 Zoom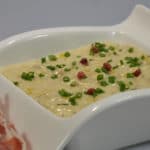 Mascarpone sauce with gorgonzola