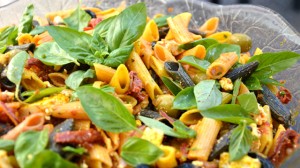 Recipe: Pasta salads
Pasta salad recipe, a multicolored salad for a country meal in the fields. A salad with a lot of flavor where saffron comes next to basil, where extra virgin olive oil comes to sprinkle the pasta flavoring itself with balsamic vinegar. The feta completes this gourmet pasta salad.
Recipe ingredients
Pasta salad recipe for 12 people:
1 kg cooked pasta
100 g of tomato tapenade
2 red onions
80 g of sundried tomatoes
10 cl olive oil
5 cl balsamic vinegar
2 cloves garlic
15 g parmesan
125 g black olives
125 g green olives
150 g feta in oil
30 basil leaves.
5 gr of saffron
Instructions
Cook the pasta in a large volume of boiling salted water.
Drain the pasta and cool it under the tap of cold water.
Pour the pasta into a large bowl and oil the cold pasta.
Peel the red onions.
Thinly slice the onions and add them to the pasta.
Peel the garlic then press it with the garlic press.
Add the vinegar and the green and black olives, mix everything together.
Sow the saffron on the pasta, mix well.
Cut the feta into small cubes and add there.
Rinse the basil leaves and generously scatter the basil leaves over the pasta dish.
Preparation time: 20 minutes
Cooking time: 0 minutes
Number of people: 4
4 star rating: 1 review
What wine to drink with: Pasta salad
My favorite wine for this recipe: Cote du Rhône village Grape variety Cinsault, Syrah, Grenache noir
Temperature between 15 ° and 16 °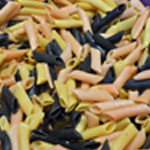 Cook the pasta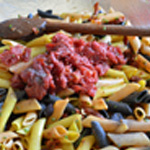 Add the tomato tapenade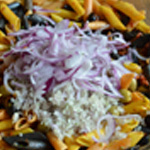 Slice the red onions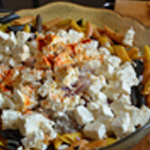 Add the feta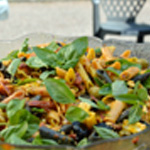 Add basil