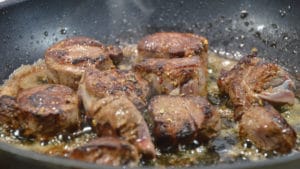 Wild boar fillet with butter recipe
It is my friend Daniel, a great hunter by trade, who offered me a half boar, game I love to work with. This time I had my great uncle who had come to help me make white pudding for Christmas. The tenderloin was not very big, but the quality, flavor and tenderness of this tenderloin more than made up for the small portions. I don't regret having chosen a very simple recipe without sauce, just seared in butter with a blue cooking, pepper with peppercorns and a few grains of fleur de sel and voila. I'm going to prepare a seven o'clock leg of boar for a friend, I'm sure she's going to enjoy it. With a long and gentle cooking in the oven, the meat should be like that fillet of wild boar in butter, a killer.
Wild boar fillet with butter for 2 people
Ingredients :
250 g of wild boar fillet
50 g butter
Salt flower
Peppercorns
Instructions
Remove the tenderloin from the refrigerator at least an hour before cooking it.
Slice the fillet into a medallion of the same thickness.
Generously pepper both sides of the fillet.
Heat the pan with the butter.
Place the tenderloin medallions in the very hot butter for 2 to 3 minutes.
Turn them over with tongs and continue cooking for a few minutes according to your choice.
Season with the fleur de sel just before serving.
Preparation time: 3 minutes
Cooking time: 4 to 6 minutes
Number of people: 2
4 star rating: 1 review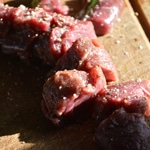 Slice the fillet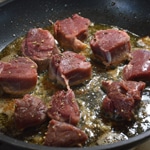 Sear the fillet in hot butter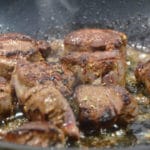 What wine to drink with: Filet of wild boar in butter
My favorite wine for this recipe Moulis en Médoc 2012 Grape varieties: Carbernet sauvignon, Petit Verdot, Merlot
Temperature between 16 ° and 17 °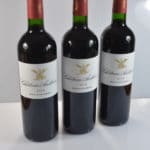 Bottles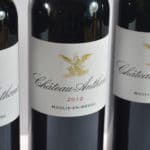 Zoom
Partnership Château Anthonic Moulis en Médoc in Gironde
A thought to all those connected from France or abroad in love with French cuisine and its wines, here is a great opportunity for you to buy a quality wine, without any risk, to accompany my wild boar fillet recipe buttered. I selected this Bordeaux wine a delicious Moulis en Médoc 2012 from Château Anthonic in Moulis en Médoc – after tasting it, I loved it.
Château Anthonic 2012 Moulis en Médoc
All in harmony and elegance, a fine, very fruity bouquet of black fruits in the elegance of gluttony. With these silky tannins and its freshness which enhances the notes of red fruits, make it a wine of pleasure.
Chateau Anthonic
SCEA Pierre Cordonnier
33480 MOULIS EN MEDOC
Email: contact [AT] chateauanthonic.com
Phone: 05 56 58 34 60