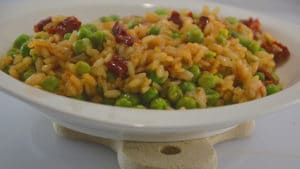 Peas risotto
Summary : Recipe for Risotto with peas, a great recipe with the arrival of spring. I love working with these fresh, beautifully colored peas. Here the risotto takes all its values with this recipe. A great way to honor the arrival of this beautiful season and the sun. I like this typically Italian dish and this generous cuisine from the other side of the Alps. Parmesan is an integral part of almost all risotto recipes, I always add it at the end of cooking when the liquid has almost disappeared. I had found bacon from Colonnata in the Halls of Chambéry, I fell in love with this Italian charcuterie and this so generous taste. Pea Risotto recipe for 3 people:
Risotto recipe with peas for 4 people
Recipe ingredients
220 gr of shelled peas
100 gr of Colonnata bacon
30 gr of sun-dried tomato
100 gr Arborio rice
80 gr of parmesan
1 cube of vegetables
Instructions
Shell the fresh peas.
Blanch the peas for one minute in salted water.
Heat a dry pan.
Slice the bacon strips of Colonnataen four.
Sear the bacon for 5 minutes, lowering the heat a little under the pan.
Dissolve the cube of vegetables in lukewarm water.
Add the broth and cover with water.
Let the rice cook for about fifteen minutes.
Add the Parmesan 2 minutes before the end of cooking and the peas.
Preparation time: 10 minutes
Cooking time: 15 to 17 minutes
Number of people: 3
4 star rating: 1reviews
What wine to drink with: Risotto with peas
My favorite wine for this recipe: Auxey-Duresses Cépage Chardonnay
Temperature between 13 ° and 14 °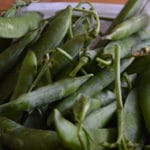 Shell the peas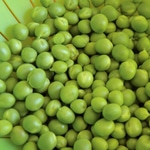 Rinse the peas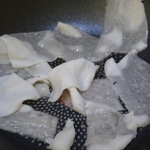 Sear the bacon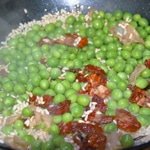 Add the peas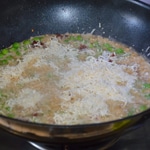 Add the parmesan