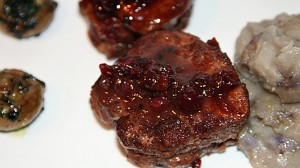 Recipe: Pork tenderloin with cranberries
Recipe for pork tenderloin with cranberries, here is a marriage of happiness with the slightly tangy cranberries which perfume this sauce. Pork tenderloin, be careful cooking pork tenderloin remains a delicate part, do not overcook them, the meat should be soft. A creamy sauce with cranberries and sweet wine, let the sauce reduce slowly; it should be thick, a bit like fruit jam. Pork recipe for a year-end meal, spiced with cinnamon, a sweet and savory mixture. Pork tenderloin recipe with lingonberries, prepare this recipe in the morning and finish cooking the pork loin just before serving.
Recipe ingredients
Pork tenderloin with lingonberries recipe for 4 people
1 pork tenderloins
2 tablespoons of cinnamon
4 turns of pepper
40g butter
1 tablespoon of oil
1 jar of wild cranberries
25 cl of Monbazillac wine
1 lemon juice
Instructions
Trim or trim your pork tenderloins, remove the fat and remove the skins from them.
Tie them at regular intervals so as to obtain 8 medallions of the same size.
Cut the 3 cm thick medallions, salt and pepper.
Sprinkle with cinnamon and pepper, roll them well in the spice and pepper.
Heat the oil and butter in a pan.
Add the medallions and toast them a little.
Attention you must stop cooking to finish cooking just before serving, leave 4 to 5 minutes.
Turn over so that they are golden all over.
Reserve the filet mignon in a deep plate.
Pour the cranberries into the pan with the white wine, collect the juices well.
Reduce by 3 quarters, stir well with a wooden spoon and this until the sauce is homogeneous.
Taste salt and pepper then adjust your sauce.
A few minutes before serving, bring the fillets back to temperature, remove the string and serve your medallions topped with your sauce.
Preparation time: 10 minutes
Number of people: 4
Cooking time: 4 to 5 minutes minutes
5 star rating: 1 review
What wine to drink with: Pork tenderloin with cranberries
My favorite wine for this Gigondas (Red) recipe (Grape varieties: Cinsault, Grenache noir, Mourvèdre, Syrah)
Temperature between 13 ° and 14 °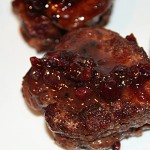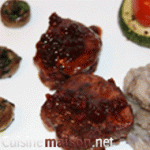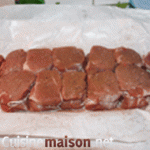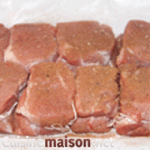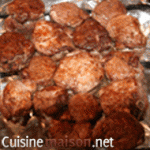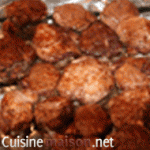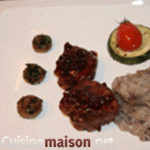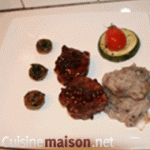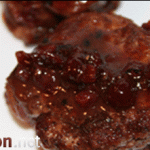 More recipes:
Filet mignon with gingerbread

Sesame pork tenderloin

Pork tenderloin with porcini mushrooms

Barbecue pork tenderloin
lingonberries
filet mignon
White wine Pascal
Hide reactions

well I would eat it well too! Especially since the weather is more on this type of dish than on the barbecue

the meat as tender as you Pascal everything was very refined and I will not forget the genial decoration see you soon. It is a shame for all those who do not know you I speak as much for your cooking and your friendships kisses see you soon Fabienne

the very tender meat, the excellent sauce, I loved it
Your reactions / questions / tips: Cancel reply
Remark
Name *
Email *
Website
</p