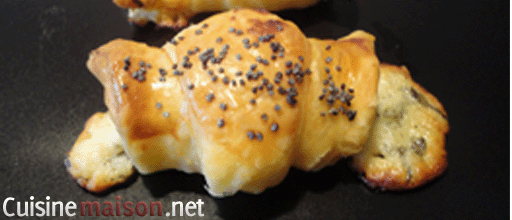 Herb and smoked salmon croissant
As an aperitif or as a starter with a green salad, this croissant with fine herbs and smoked salmon will not have time to heat up on your plate. Smoked salmon is fun all year round, in addition it has become a little democratized and come back cheaper, several there are several qualities, here for this recipe no need to take high game, because it will Mini croissant with smoked salmon for an aperitif, it's good to vary with the mini croissants.
Ingredients
Croissant with fine herbs and smoked salmon recipe for: 16 croissants
1 roll of puff pastry
100 g cheese with fine herbs
2 slices smoked salmon (160 g)
1 tablespoon of flat-leaf parsley
1 tablespoon ground cumin
1 egg yolk
1 tablespoon of poppy seeds
Instructions
Preheat the hot oven 200 °
Cut the smoked salmon into a small triangle.
Mix the cheese with the fine herbs.
Add the parsley, cumin, mixed well.
Salt and pepper.
Roll out the puff pastry and cut it into small 16 x 8 cm triangles.
Place a slice of smoked salmon followed by cheese with fine herbs.
Roll up starting with the widest and ending up towards the tip.
Place your croissants on a sheet of baking paper.
Pass the egg yolk with a little water with a brush.
Sprinkle poppy seeds on the croissants.
Leave to rest for ½ hour in the refrigerator.
Bake in a hot 200 ° oven for 15 to 20 minutes.
Preparation time: 30 minutes
Cooking time: 15 minutes
Number of people: 16 rooms
4 star rating: 1 review
What wine to drink with: Herb croissant and smoked salmon
My favorite wine for this recipe: Riesling Grape Riesling
Temperature between 8 ° and 10 °