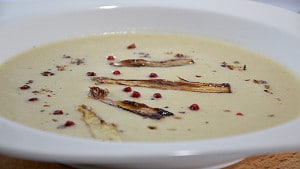 Recipe: Cream of purple asparagus
Recipe for purple asparagus cream, they are inexpensive now. The weather was not nice, I replaced my salad with a cream of purple asparagus. A very tasty sweetness, and the tips cooked in the barely crispy butter, happiness, not in the meadow but on the plate. I like this soup and its sweetness, I like its fragrant taste, I also like the peppercorns which add a little touch of spice. Ideal for an appetizer to start a meal with friends, ready in a few minutes, you will love this cream of purple asparagus.
Recipe ingredients
Purple asparagus cream recipe for 4 people:
500 gr of asparagus
1 small onion
10 cl of liquid cream
½ teaspoon ground pepper
60 gr of butter
Instructions
Peel the asparagus, cut off the bottom of the trunk.
Cut the tips to 2 cm, then thinly slice lengthwise, and set aside.
Cut the asparagus into 1 small cm ends.
Peel the onion, then finely chop.
Heat a saucepan with 20 g of butter.
Add the onion and sear it without letting it color.
Add the asparagus sections and grill for 4 to 5 minutes.
Season generously with salt and pepper.
Cover the asparagus with water.
Cook over low heat, prick the asparagus to monitor the cooking.
Drain the asparagus once cooked, reserving the cooking water.
Mix the flesh of the asparagus with the cream in the blender.
Slowly add the broth until desired.
Return to temperature, add the rest of the butter off the heat.
Cook the tips in a little butter.
Turn gently so that they are toasted on all sides.
Serve in hot plates, add some freshly crushed peppercorns.
Place a few tips of grilled asparagus.
Preparation time: 15 minutes
Cooking time: 10 minutes
Number of people: 4
4 star rating: 1 review
What wine to drink with: Cream of purple asparagus
My favorite wine for this recipe: Sancerre blanc grape Sauvignon blanc
Temperature between 10 ° and 12 °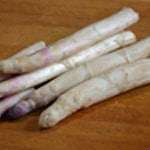 Peel the purple asparagus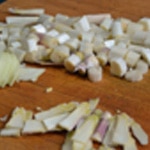 Cut the asparagus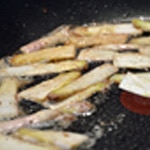 Grab heads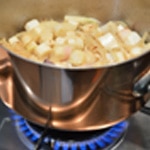 Cook the asparagus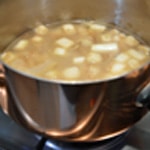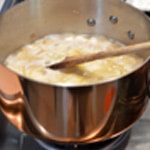 Let reduce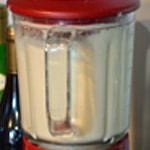 Mix in a blender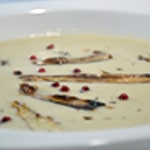 Zoom