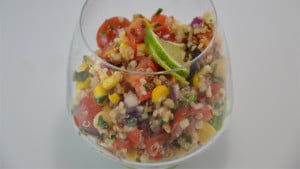 Recipe: Quinoa salad
Gourmet quinoa salad recipe, we love all these multicolored salads at home. The quinoa salad is one of them, plus the tastes are divine. A little freshness on the table with a barbecue of fish or even meat, I presented it in small verrines. I like quinoa, but we're more used to eating it hot. For once this quinoa salad had the most beautiful effect at home. I liked this little taste of mint and the incomparable parfait of lime. A quinoa salad to eat without any restrictions. The kids also enjoyed it.
Recipe ingredients
Quinoa salad recipe for 10 people:
200 gr of uncooked quinoa
4 organic limes
3 tablespoons of olive oil
30 small basil leaves
30 small mint leaves
265 gr chickpeas
230 gr of kernel corn
250 gr of cherry tomatoes
1 red pepper
20 Greek style olives
250 gr of feta cheese
Instructions
Cook the quinoa for about 12 minutes in a large volume of water.
Let the quinoa cool when cooked.
Rinse the red pepper, then chop it into small squares.
Peel the onion and cut into small squares.
Finely chop the mint and basil.
Drain then rinse the chickpeas and corn.
Remove the pits from the olives then slice into rings.
Rinse the cherry tomatoes then cut into quarters.
Cut a few slices of lime, then extract the juice.
Mix all the ingredients with the juice.
Pour in the olive oil.
Crush the fresh pepper and add to the preparation.
Pour into the verrines without touching the sides.
Garnish with a few lime wedges.
Preparation time: 20 minutes
Cooking time: 15 minutes
Number of people: 10
4 star rating: 1 review
What wine to drink with: quinoa salad
My favorite wine for this recipe: Rosé Corse Ajaccio grape Sciaccarelo and Nielluccio
Temperature between 08 ° and 10 °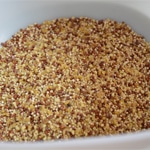 Cook the quinoa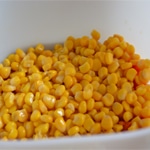 Drain the corn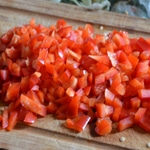 Slice the peppers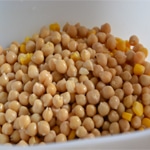 Drain the chickpeas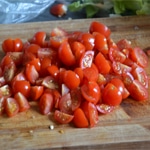 Slice the cherry tomatoes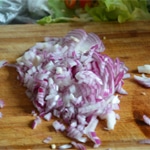 Finely chop the shallots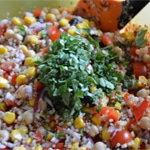 Add the herbs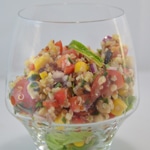 Zoom