Recipe: Galette des rois with raspberries
Recipe galette des rois with raspberry, here is after the New Year a tradition that persists, always a very convivial moment when the smallest in the room, passes under the table to name each part, too bad to forget them… .. This time here the recipe for king cake will be flavored with raspberry, just to change habits a little. The acidity of the raspberries counteracts the sugar of the frangipane, a much more pleasant balance for the palate. 2014 souvenir recipe
Recipe ingredients
Raspberry galette des rois recipe: For 8 people
2 circles of puff pastry 25 cm in diameter
2 eggs
100 g butter
100 g icing sugar
100 g of almond powder
150 g raspberries
1 egg for gluing
Instructions
Take out the puff pastry and the butter ½ hour before.
Preheat the hot oven to 180 °
Unroll the puff pastry, taking care not to pinch it.
Separate the white from the yolk for an egg.
Pass a brush with the egg white on the edges of the bottom layer, the width of the brush.
Break the eggs into a bowl.
Beat the eggs with the icing sugar.
Add the almond powder, mix vigorously with a whisk.
Cut the tempered butter into small pieces.
Add the butter, mix vigorously with a whisk.
Place the device in the center of your pancake, spread the preparation around the edges, stopping at 1 cm from the edges.
Generously place the raspberries on the device.
Determine the location of the possible bean close to the outside.
Place the upper pastry roll on the marzipan without pressing the edges.
Chick with the back of the knife tip to weld the puff pastry.
Mix the egg yolk with a teaspoon.
Brush the egg yolk over the pancake, without putting any on the chiquet.
Bake in a hot oven for 45 minutes.
Enjoy lukewarm.
Preparation time: 15 minutes
Cooking time: 45 minutes
Number of people: 8
4 star rating: 1 review
What wine to drink with: Galette des rois with raspberries
My favorite wine for this Jurançon recipe Grape varieties: Gros Manseng, Petit Manseng, Courbu blanc
Temperature between 6 ° and 8 °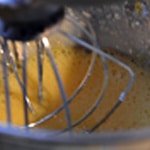 Beat the eggs and sugar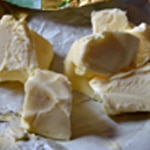 Soft butter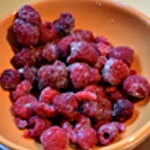 Raspberries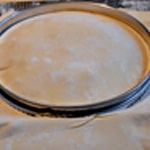 Make a circle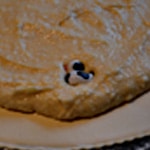 The bean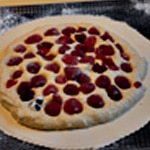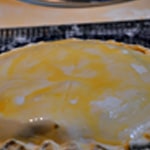 Pass the egg yolk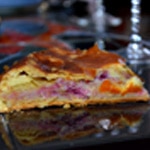 Face and raspberries