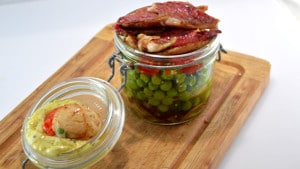 Recipe: Red mullet fillets in a glass
Red mullet fillets in a glass, a nice recipe with little fresh produce that smells of spring. I accompanied it with a wasabi sauce, well it was a little spicy, for novices but for amateurs a real killing. I like this fish, it is now regularly found on the shelves in supermarkets. Ideal for receiving these red mullet fillets in a glass with the glass, they remain very hot for a long time and it is very practical. Red mullet are fish with extraordinary flesh but they do not tolerate cooking well.
Recipe ingredients
Recipe for red mullet fillets in a glass for 3 people:
1 forest mushroom el lamella
2 fairly large cherry tomatoes
1 teaspoon of olive oil
1 teaspoon of dried garlic
200 gr of button mushroom
30 gr of lamb's lettuce
300 gr of forest mushrooms
1 tablespoon of olive oil
50 gr of butter
2 cloves garlic
1.200 kg of fresh peas
Instructions
Cook the peas in a large volume of water, run under the tap as soon as cooking is finished.
Cut the Paris mushrooms into strips.
Peel the garlic, then squeeze it in the hot pan with the oil.
Sear the mushrooms in the pan over high heat, season with salt and pepper then pour into the verrines .
Add the lamb's lettuce and sear it for a few seconds then add it to the peas.
Add the peas in the verrines.
Reheat the verrines in the oven 15 minutes at 180 °.
Heat the butter in the pan and sear the fillets just before serving a fairly quick back and forth.
Place the fillets on the verrines well hot.
Add a little wasabi sauce in the lids for the amateurs.
Preparation time: 15 minutes
Cooking time: 15 minutes
Number of people: 3
4 star rating: 1 review
What wine to drink with: Red mullet fillets in a glass
My favorite wine for this recipe: Arbois blanc Grapes Savagnin blanc, Pinot blanc, Chardonnay
Temperature between 10 ° and 12 °
Sear the mushrooms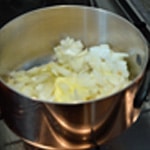 Sear the onions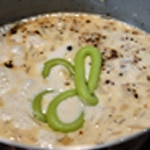 Wasabi sauce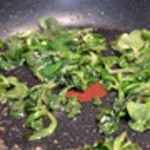 Sear the salad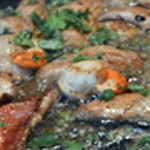 Cook the red mullet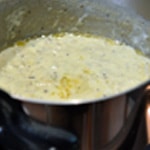 Reduce the sauce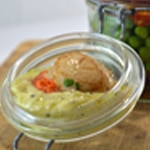 Cook the scallops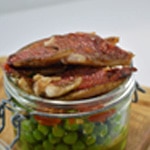 Assemble the verrines