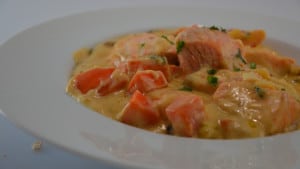 Salmon blanquette recipe
Salmon blanquette, thank you to my friend Sonia who tracked me down this beautiful, quick recipe that is easy to make. Ready in a few minutes, it should delight these ladies who are always in a hurry. At home we particularly like salmon, it is surely the fish that we consume the most, perhaps also and especially because of its price. But its flesh is still very tasty. Be careful with its cooking, the salmon cannot withstand too much cooking, it quickly becomes very dry. Keep it a little rosy and you will always be charmed by this generous pink flesh. A nice blanquette of salmon, just by typing this recipe, I can already imagine Léonie tasting it, I'm sure she will love it. I don't take a lot of risk, as she loves every element of the recipe.
Recipe ingredients
Salmon blanquette recipe for 6 people:
6 salmon steaks
1 shallot
2 leek whites
3 large carrots
1 lemon juice
5 sprigs of parsley
60 g butter
40 cl of liquid cream
30 cl of chicken stock
2 tablespoons of flour
2 tablespoons of mustard
Salt and peppercorns.
Instructions
Cut the salmon into medium cubes.
Peel the shallot, then finely chop there.
Rinse the parsley, dry with food paper, then finely chop.
Peel the carrots, then cut them into slices.
Steam the carrots for 20 minutes.
Trim the leek whites, then cook them for 5 minutes in the salted water of the carrots.
Melt 20 g of butter then sear the shallots.
Add the carrots, the leek whites and the salmon as soon as the shallots are transparent.
Melt the rest of the butter in a saucepan.
Add the flour and pour in the chicken broth.
Leave to thicken, then add the liquid cream and mustard.
Salt and pepper.
Pour in the salmon preparation.
Add the juice of one lemon.
Enjoy immediately.
Preparation time: 10 minutes
Cooking time: 10 minutes
Number of people: 6
4 star rating: 1 review
What wine to drink with: Blanquette of salmon
My favorite wine for this recipe: Beaujolais blanc Cépage Chardonnay
Temperature between 8 ° and 10
Origin of the recipe: http://www.recettedumonde.net/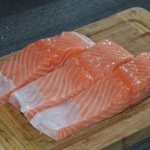 Slice the salmon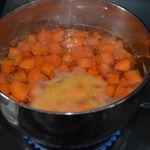 Cook the carrots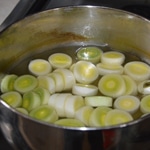 Add the salmon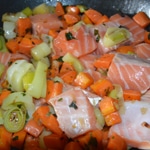 Add the salmon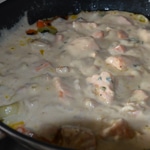 Zoom