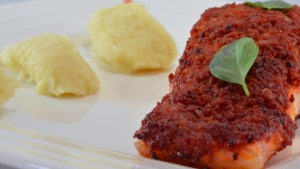 Salmon with chorizo
Instructions
Recipe for salmon with chorizo, a great way to savor this fish, land and sea. The chorizo will divinely flavor the salmon, the cooking will be perfect for the salmon. Salmon with chorizo, an easy dish to make, I particularly like this marriage. The salmon is divine cooked in the fat of the chorizo and in addition the fat will remain in the dish. The salmon can be cooked for 15 minutes when it is paved. Cooking it longer would be a sacrilege, with this cooking at home, even nature we love. You can use farmed salmon for this chorizo salmon recipe and save wild salmon for other, more natural recipes.
Salmon with chorizo recipe for 3 people:
Ingredients
3 salmon steaks
½ mild chorizo
1 onion
60 gr of parmesan
Instructions
Preheat the oven to 180 °
Peel the onion then cut into eight.
Slice the chorizo.
Mix the chorizo, onion and Parmesan.
Place the pavers on a baking sheet.
Spread the chorizo preparation directly on the salmon flesh side.
Bake 12 to 15 minutes but no more.
Preparation time: 10 minutes
Cooking time: 15 minutes
Number of people: 3
4 star rating: 1 review
What wine to drink with: Salmon with chorizo
My favorite wine for this recipe: Bordeaux blanc Cépages, Muscadelle, Sémillon, Sauvignon blanc
Temperature between 08 ° and 10 °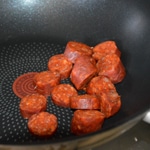 Sear the chorizo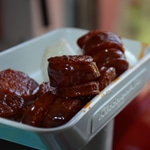 Cooked chorizo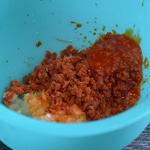 Mix the chorizo
Wipe the salmon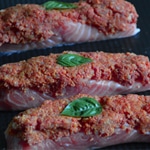 Spread the chorizo