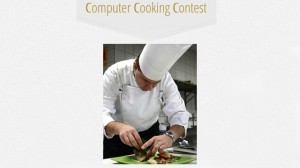 The 5th edition of the computer cooking contest will take place for the first time in Lyon on September 3, 2012. Individuals passionate about cooking, entrepreneurs who work in the gastronomy sector or even research groups are invited to participate in this competition. which aims to reward the best technological innovations in the world of cooking.
What is the Computer Cooking Contest
This is a competition in which you present live and in English your software (smartphone application for counting calories, software for modifying or adapting cooking recipes, etc.), your tool (tablet for cooking, ebook interactive …) or your website for which you believe it brings real innovation in the world of cooking.
The demonstration takes place in front of an international jury composed of:
Michel MANAGO CEO of KIOLIS, France (President of the CCC'2012)
David AHA, Head, Adaptive Systems Section, Naval Research Laboratory, United States
Jérome SEILLIER, R&D Project Manager, BEARSTECH, France
Agnès GIBOREAU, Director of research at the PAUL BOCUSE institute, France
Mehmet GÖKER, Vice President Analytics, SALESFORCE.COM, USA
Jean Louis HOCQ, Managing Director, SOLAR EDITIONS, France
Ichiro IDE, Professor, UNIVERISTY OF NAGOYA, Japan
Alain MILLE, Professor, UNIVERSITY LYON I, France
Ralph TRAPHÖNER, Chief Technology Officer, EMPOLIS, Germany
Nicolas VALANCE, Innovation project manager for the SEB group, France
Aylin de VILLECHENOUS; project manager, CAP DIGITAL, France
Chef Patrick Chabassier of the PAUL BOCUSE Institute
Following the presentation of the participants, Professor Ichiro IDE will present the main technological innovations and major trends in the world of cooking in Asia. Nicolas Valance from the SEB group will present the main challenges to take up in order to bring digital technologies to consumers' kitchens.
Regarding the prizes, the first will be offered € 1500 for the most innovative system in the use of digital technology for the kitchen, then the second will receive € 1000 for the most technologically advanced software.
It is still possible to participate, but you have to hurry because the registration deadline is July 13, 2012.
Interested? this is where it happens: www.computercookingcontest.net