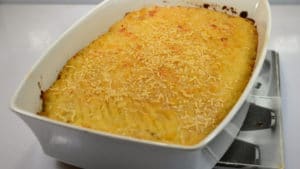 Andouillette Parmentier recipe
Andouillette, at home I am the only one to adore the andouillette, I take advantage of papi René's visit and a leftover mash, to make this andouillette Parmentier. Ready in a few minutes, we tasted it with a nice green salad, accompanied by a slightly full-bodied red wine. I buy my andouillette directly from my butcher, they are always great, not too fatty, I love it. Not everyone eats andouillettes, be careful not to mess up when choosing this dish, in any case no problem for the papi, he even left with the rest of the Andouillette Parmentier.
Andouillette Parmentier recipe for: 3 people
Ingredients :
1 large bowl of leftover mash
3 beautiful andouillettes
15 cl of liquid cream
1 nice shallot
2 cloves garlic
1 tablespoon of olive oil
1 tablespoon of strong mustard
1 tablespoon of breadcrumbs
20 g butter
10 cl of white wine
Instructions
Preheat the oven to 200 °
Peel the shallot and garlic.
Finely slice the shallot.
Heat the pan with the olive oil.
Sear the shallot in the pan and the butter.
Squeeze the garlic over the shallot.
Add the andouillettes, salt and pepper to the mignonette.
Add the mustard and let it toast well.
Deglaze with the wine, reduce by half.
Cream the andouillettes, let reduce for a few minutes.
Butter a baking dish.
Place half of the mash.
Place the cream andouillette on the mash.
Place the rest of the mash on the andouillette.
Smooth the mash.
Sow the breadcrumbs.
Place the knobs of butter.
Place in a hot oven under the grill halfway up for 25 minutes.
Preparation time: 10 minutes
Cooking time: 25 minutes
Number of people: 3
4 star rating: 1 review
What wine to drink with: Parmentier d'andouillette
My favorite wine for this recipe: Coteaux Varois en Provence red Grapes Grenache noir, Cabernet sauvignon, Syrah
Temperature between 15 ° and 16 °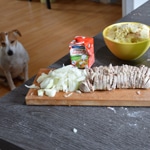 Ingredients
Cook the andouillettes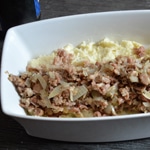 A layer of andouillettes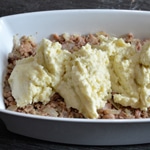 A layer of potato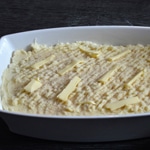 Finish with potato