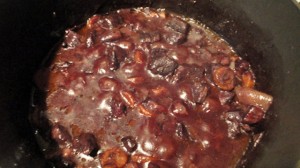 Recipe: Duck breast stew
Recipe for stewed duck breast to accompany fresh pasta, this is an easy duck breast cooking recipe. You can cook with duck breast wine to change your habits, this recipe looks a lot like a boeuf bourguignon. Duck stew, you will be surprised by this soft meat, both duck and beef are meats that can be cooked with wine. Duck breast stew, they all ate, but I knew they were duck breast lovers, but frankly this recipe is really original. It is an old recipe that I put together in fact, I am not at home and I am having great difficulty in uploading recipes. Recipe ingredients
Recipe ingredients
Duck breast stew recipe for 4 people
2 duck breasts
0.75 l of red wine (the same wine you will serve at the table
2 carrots
1 onion
3 sprigs of thyme
1 sprig of sage
30 g of death trumpets
1 clove
1 bay leaf
2 juniper berries
100 g smoked bacon
Instructions
Soak the trumpets in lukewarm water.
Degrease the duck breasts.
Cut your duck breasts into pieces.
Marinate the meat with the pepper, carrots, whole onion studded with 1 clove: 3 twigs of thyme,
1 bay leaf, 2 juniper berries, 0.75 l of red wine.
Let stand 10 hours, covered, in the refrigerator.
Heat a cast iron casserole dish over low heat with the duck fat.
Grill the bacon cut into small squares
Add the onion cut into quarters and the trumpets
Wipe the pieces of duck with food paper and brown them in the casserole dish.
Without coloring them, the goal is to strengthen the meat.
Sprinkle two tablespoons of flour on the grilled meat, mix well.
Add the filtered marinade, add a little red wine so that the meat is bathed.
Add the trumpets and a bouquet garni enforced with thyme.
Simmer over low heat for 90 minutes.
Remove the pieces, and reduce your sauce if necessary.
Put back the duck pieces The sauce must be very smooth. That is to say, it must be well reduced. Adjust seasoning.
Preparation time: 30 minutes
Cooking time: 60 minute (s)
Number of people: 4
4 star rating: 1 review
What wine to drink with: Duck breast stew
My favorite wine for this recipe Cahors (Red) (Grape varieties: Malbec, Merlot
Temperature between 17 ° and 18 °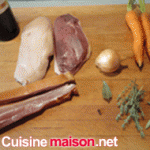 Ingredients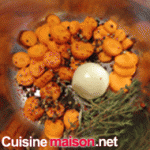 Preparing the marinade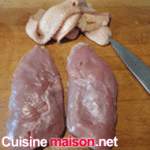 Remove the skin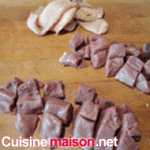 Cut the meat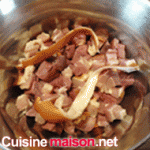 Cut the bacon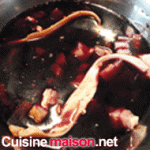 Leave to marinate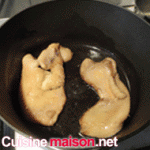 Heat fat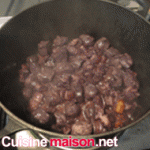 Sear the meat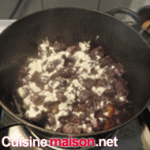 Toast the flour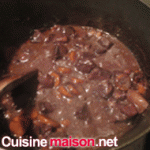 Wet with wine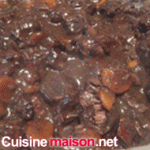 Let it be for now<img src="/wp-content/uploads/2021/09/6562357482374406587.jpg" class="aligncenter"