Recipe: Lamb tagine with fennel
Lamb tagine recipe with fennel, here is a tagine recipe with a certain character, I like to cook and taste the fennels, here they will deliciously flavor the shoulder of lamb. We love to taste tagines at home, I love the opening of the tagine and the scent that develops when the lid is opened. The lamb goes wonderfully with this vegetable, it will cook for an hour and will remain very tender and tasty. My lamb and fennel tagine was tasted in a few minutes, I finished the cold lamb in the evening with a little homemade mayonnaise. A rather quick preparation in the tagine, the most important moment is the cooking, do not forget that the vegetables are full of water, they will generously mix with the sauce.
Recipe ingredients
Lamb and fennel tagine recipe for: 8 people
1 shoulder of lamb about 1.35 kg
1 orange
2 turnips
2 large onions
2 tablespoons of olive oil
4 fennel bulbs
½ teaspoon of ginger
½ teaspoon of turmeric
Instructions
Wash the orange, take half of the zest then squeeze the orange.
Peel then dice the carrots and turnips.
Peel and chop the onion into rings.
After removing the cores, wash the fennel bulbs and cut them into strips.
Sear the shoulder in the tagine with 2 tablespoons of olive oil, then grill it on all sides.
Generously sprinkle thyme over the meat, reserve the meat once well colored.
Season the lamb with salt and pepper, then reserve the meat.
In the tagine, brown the onions and vegetables with the rest of the oil, add the ginger and turmeric, salt and pepper.
Add the orange zest.
Cut the lime in four.
Place the shoulder on the vegetables.
Cook in the oven at 180 ° for 60 minutes the vegetables must remain crunchy.
Preparation time: 30 minutes
Cooking time: 60 minutes
Number of people: 4
5 star rating: 1 review
What wine to drink with: Lamb tagine with fennel
My favorite wine for this recipe: Beaumes de Venise grape Syrah, Mourvèdre, Grenache noir
Temperature between 16 ° and 17 °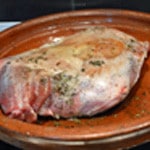 Grab the shoulder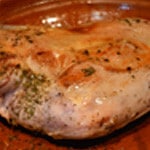 Grab from everywhere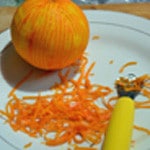 Pull the zest from an orange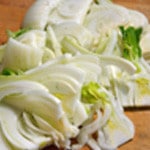 Slice the fennel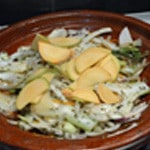 Add the turnip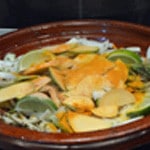 Orange zest and juice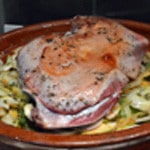 Place the shoulder on the vegetables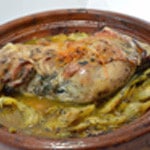 Zoom