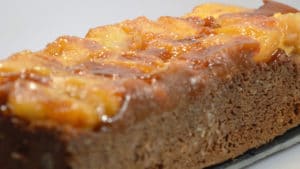 Apple and chocolate cake recipe
Summary : A dessert with apples from my orchard, this year they are abundant and you have already benefited from great recipes. Apple and chocolate cake, ideal for a gourmet end of a meal. With this marriage of candied apples and chocolate, you will love this easy-to-make little pastry. At home we love apples and especially chocolate. I will present you other recipes with apples, if you have the possibility to have reinettes of Canada, they lend themselves wonderfully to the cooking and their slightly acidulous sides brings a plus to this recipe. I served with my apple and chocolate cake recipe a lightly beaten cream and of course you can also flambé it with calvados.
Apple and chocolate cakes recipe for 6 people or 1 cake mold 28 × 11 cm:
Ingredients
Confection of the apples
120 g butter
130 g sugar
6 ripe apples
Prepare the dough
100 g ground almonds
50 g flour
1 teaspoon of baking powder
85 g butter
85 g dark chocolate for pastry
4 eggs
110 powdered sugar
Instructions
Heat the section of the apples in the oven to 140 °, then peel them.
Slice the apples in half.
Heat the 120 g of butter with the 130 g of sugar.
Place the cut side in the butter, which foams a little.
Cook for 20 minutes under a low heat.
Gently flip the apples and cook for another 10 minutes.
Sift the flour with the almond powder and the baking powder.
Melt the 80 g of butter.
Add the 85 g of chocolate to the hot butter off the heat.
Let the chocolate relax, then whip it.
Crack the eggs into the robot's bowl.
Add the sugar and blanch the preparation, it should triple in volume.
Incorporate the preparation into the flour, delicately with a spatula.
Pour in the chocolate cooled to about 45 ° and integrate it.
Butter a cake tin, then lightly flour it;
Place the candied apples in the bottom of the mold.
Pour the caramel over the apples.
Pour the chocolate mixture over the apples.
Place in the hot oven and bake for 50 minutes.
Unmould as soon as it comes out of the oven, beware of burns with the caramel.
Preparation time: 30 minutes
Cooking time: 50 minutes
Number of people: 6 or a 28 × 11 cm cake tin
4 star rating: 1 review
What wine to drink with: Apple and chocolate cake
My favorite wine for this recipe: Monbazillac grape: Sémillon, sauvignon blanc and Muscadelles
Temperature between 06 ° and ° 8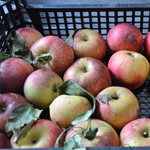 Apples from my orchard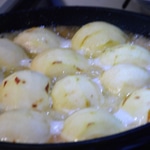 Cook the apples in the butter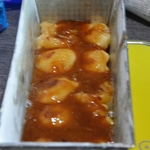 Caramelized apples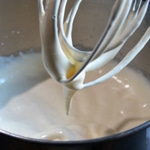 Scramble the eggs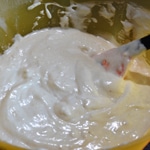 Incorporate the flour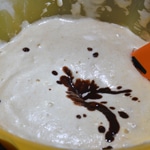 Incorporate the chocolate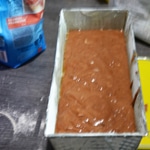 Ready to cook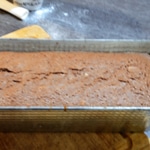 Baked cake<img src="/wp-content/uploads/2021/09/1416268634964682754.jpg" class="aligncenter"