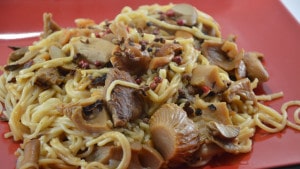 Japanese pasta
Japanese Pasta Recipe, I did not use Teppan to stir-fry the noodles, as is traditional in Japan, but like most Asians a vulgar Wok. Next time for my Japanese noodles I will respect the tradition. With us pasta is always welcome and particularly, this Japanese pasta, which is packaged with such care, it's almost art, so respect. I enjoyed cooking them as much as tasting them. So take your aprons and welcome to the world of cooking with, always so much pleasure to receive with this Japanese pasta.
Japanese pasta recipe 4 for people:
Ingredients
1 onion
300 gr of Japanese pasta
200 g small tropical wild shrimps
200 g mushroom mixture
1 teaspoon ground ginger
1 tablespoon of rice vinegar
2 tablespoons of soybeans
1 tablespoon of oyster sauce
1 tablespoon of Nuoc man
1 teaspoon of Séchouan pepper
Instructions
Peel then mince the onion.
Heat the wok, then throw in the onion.
Add the mushrooms as soon as the onions are lightly colored.
Add the tropical shrimp.
Deglaze with the rice vinegar.
Add the ground ginger.
Pour in all the sauces and simmer for 5 minutes.
Place the noodles on the preparation.
Cover with the minimum amount of water and cook for another 5 minutes with a lid on.
Serve on hot plates.
Preparation time: 10 minutes
Cooking time: 10 minutes
Number of people: 5
4 star rating: 1reviews
What wine to drink with: Japanese pasta
My favorite wine for this recipe: Sake Rice drink
Temperature between 18 ° and 20 °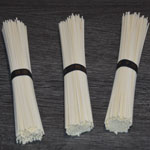 Pasta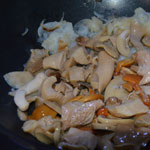 Sear the mushrooms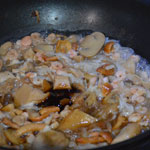 Add the prawns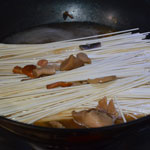 Add the pasta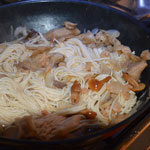 To mix together