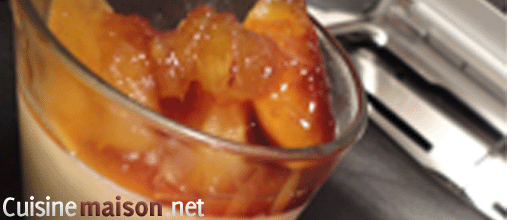 Apple Tatin Mousseline Recipe
Apple mousseline a great light dessert to end a meal, you can choose a little sour apples. The apple is an autumn fruit, found all year round, often even in our orchards. The base of this dessert is an apple sauce, which you can put in jars or even freeze it, the apple mousseline can be flambé, so you will give this dessert an air of celebration .
Apple Tatin mousseline recipe for 4 people
Ingredients :
12 apples
35 cl of fluid cream
350 g sugar
3 g of agar-agar or 4 gelatin sheets
100 cl of water
100 g butter
Instructions
Make a syrup with 150 g sugar and water. Add the agar-agar. Let boil a little and cool.
Mix 10 apples without cooking them so that they keep their particular aroma.
Mix the cooled syrup with the apple coulis.
Beat the whipped cream into a firm whipped cream (for success: put your bowl and your cream in the refrigerator for half an hour). As soon as your whipped cream is ready, fold it gently into the apples.
In a skillet, melt the butter gently. Place the sugar cubes as soon as the butter has melted.
Let the sugar melt and wait for it to take on a beautiful amber color, stir regularly.
Gently place the apples in your caramel, then turn them over and mount your verrines.
Refrigerate for about 3 hours.
Melt some butter in a lukewarm pan, then add the sugar to make a light caramel. Add your peeled and quartered apples, let them brown well then place them on your verrines just before serving.
You can also flambé them in the pan before serving.
Preparation time: 30 minutes
Cooking time: 0 minutes
Number of people: 4
4 star rating: 1 review
What wine to drink with: Apple Tatin Mousseline Recipe
My favorite wine for this Coteaux du layon recipe Grape variety: Chenin blanc
Temperature between 7 ° and 8 °