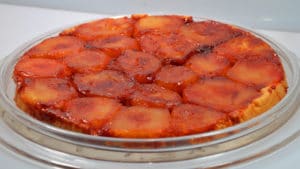 Apple Tarte Tatin Recipe
Here is my favorite tart the Tarte Tatin apples and this year the apples are abundant, we are going to take advantage of it. I served it with barely beaten thick cream and of course flambéed with Calvados, a wonderful dessert, thank you to the two sisters Tatin Stéphanie and Caroline de La Motte Beuvron, they treat us regularly. The reinettes of Canada are perfect for this kind of dessert, my apples are still a little firm, tangy they will go wonderfully with the caramel. The Tarte Tatin apples can be eaten cold or warm, but I like it very cold anyway when I flambé it, it brings out the caramelized apples, you will love this Tarte Tatin apples flambée.
Apple Tarte Tatin recipe for 1 25 cm tart mold:
Ingredients
100 g of soft butter
100 g of cane sugar
5 large reinette apples
Pastry
100 g butter
100g of flour
1 teaspoon of vergeoise sugar
4 cl of water
1 pinch of salt
Instructions
Mix in the bowl of the mixer, the soft butter, the flour, the sugar and the fine salt.
Mix gently for 5 minutes.
Place in the refrigerator for 30 minutes.
Peel the apples, then remove the center of the apple and cut them in half.
Melt the butter in a large skillet then add the sugar.
Place cut sides in melted butter.
Cook under a low heat for 20 minutes.
Carefully turn the apples over and cook for another 15 minutes.
Place the cooked apples in the pie pan, adding the cooking caramel.
Roll out the very cold pie crust.
Place the dough directly on the cooked apples.
Place in a hot oven for 30 minutes, while the dough cooks.
If you are greedy, you can serve with a spoonful of whipped cream and even flambé with Calva
Preparation time: 30 minutes
Cooking time: 30 minutes
Number of people: for a 25 cm mold
4 star rating: 1 review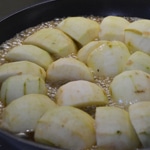 Cook the apples in the butter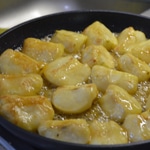 Turn the apples in the butter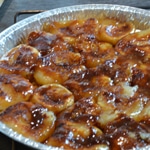 Baked apples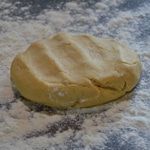 Roll out the dough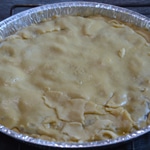 More than putting the apples away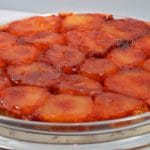 What wine to drink with: Tarte Tain
My favorite wine for this recipe: Pineau rouge Cépage Merlot and Cabernet Sauvignon
Temperature between 08 ° and 10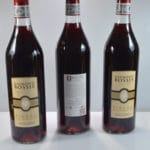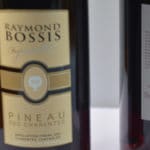 Partnership with Domaine Cognac Raymond Bossis
A thought to all those connected from France or abroad in love with French cuisine and these wines, here is a great opportunity for you to buy a quality wine, without any risk, to accompany my tart tain recipe. I selected this red Pineau from the Cognac Raymond Bossis domain in the Charentes Maritimes after tasting it, I fell in love with this beautiful tart.
Red Pineau des Charentes
Made from Merlot (70%) and Cabernet Sauvignon grape varieties, same blend as Pineau blanc. This red Pineau stands out for its dark ruby color, after two years it gives all its fruity aromas: wide range of aromas (fresh grapes, blackcurrant, morello cherry, redcurrant, raspberry). and its roundness. A quality partner to accompany chocolate desserts.
Cognac pineau des Charentes Bossis
4 the Groies
17150 St Bonnet sur Gironde
Phone 05 46 86 02 19
Mail: pineau.bossis [at] neuf.fr </p