<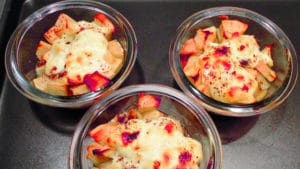 Apple Speculos Recipe
Summary : Apples with speculos, an easy dessert to make with apples stored in the cellar, the speculos are crushed with a pestle, children love to do it. The nutty taste of the speculos is the specific flavor of this biscuit from Belgium, our cousins the Belgians are very fond of it. Easy apple recipe with these speculo apples, slightly crunchy at the end, but with that special flavor of speculos. I like desserts with apples that are baked in the oven, the cooking develops the flavor of the apples and brings out their acidity a little.
Recipe for people
Ingredients :
4 small apples
8 speculos
4 teaspoons of powdered sugar
4 teaspoons of mascarpone
4 knife tips of vanilla powder
4 tablespoons of liquid honey
4 teaspoons of pine nuts
Instructions
Preheat the oven to 170 °
In ovenproof verrines, crush the speculos.
Mix the sugar with the powder obtained.
Peel the apples and cut them into small cubes, filling the verrines.
Place a teaspoon of mascarpone (or crème fraîche) on the apples, then the hint of vanilla.
Pour honey over the apples and place the pine nuts on the honey.
Place in a hot oven at 170 ° for 20 minutes.
Preparation time: 10 minutes
Cooking time: 20 minutes
Number of people: 4
4 star rating: 1 review
What wine to drink with: Apples with speculos
My favorite wine for this Crémant du Jura recipe: Chardonnay grape and white Savagnin
Temperature: between 8 ° and 9 °