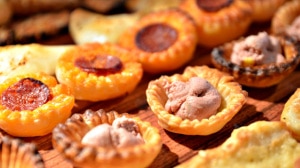 Recipe: Foie gras tartlets
Foie gras tartlet recipe, this is a great way to start a beautiful holiday meal. To be honest I still had foie gras from my Christmas sales, not enough to eat it traditionally, there were too many of us. So I decided to put it in a pocket and place it on a puff pastry and baked, great result. Foie gras tartlets, with this aperitif cake we are playing against the big boys, you will please all foie gras lovers. It changes so much with bread and foie gras. You've already seen it, I like all these little puff pastry for the aperitif, they allow you to make great aperitifs with small budgets. For my foie gras tarts, I had kept some offcuts that I had frozen to have enough, frankly I will do it again, the guests loved it and me too.
Recipe ingredients
Tartelettes recipe for 90 reductions:
200 gr of homemade or purchased foie gras
2 egg yolks
3 puff pastry rolls
Fleur de sel and Espelette pepper
Instructions
To make the foie gras click here.
Take out the foie gras a good hour before working it
Roll out the very cold puff pastry.
Cut with a cookie cutter barely bigger than your prints.
Push the dough into the indentations.
Pierce the dough three times with a fork to keep it from swelling.
Brown with egg yolk.
Put a few balls of clay or (pebbles I have a whole reserve that I put in the dishwasher of course)
Bake at 200 ° 5 to 6 minutes, watch your oven.
Let cool.
Place the tempered foie gras in a pocket with a large notched nozzle.
Fill the tarts when they are very cold.
A few grains of fleur de sel.
Sprinkle a few grains of Espelette pepper one in two for example
Reserve in the refrigerator.
Preparation time: 20 minutes
Cooking time: 6 minutes
Number of people: 90 reductions
4 star rating: 1 review
Which wine to drink with: Foie gras tart
My favorite wine for this recipe: Sauternes Sémillon grape, Muscadelle, Sauvignon blanc
Temperature between 06 ° and 08 °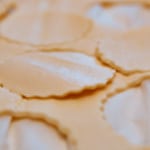 Cut the dough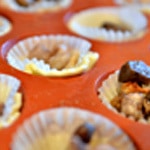 Bake the imprints in White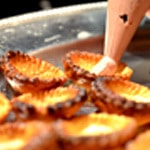 Pass into a pocket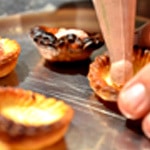 Fill the tartlets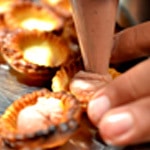 Zoom