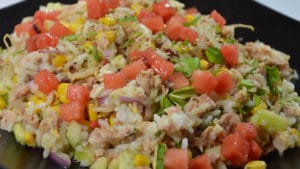 Rice salad recipe
Summary : There you go !! with summer, you have to know how to diversify your salads !! Today I offer you rice and a little fish. I really like playing on flavors and especially colors, with this kind of salad you will be amazed (in addition to tasting); here is my beautiful rice salad. I chose Thai rice to make this salad. I chose an apple cider vinegar, slightly sweet to accompany this rice salad. Around a barbecue, this salad was devoured in a few minutes. I really liked the small watermelon cubes which brought a lot of freshness and beautiful colors.
Rice salad recipe for 4 people
Ingredients :
100 g of cooked rice
¼ red onion
¼ cucumber
6 anchovy fillets in oil
90 g drained mung shoots
185g drained tuna
10 basil leaves
150 g of Watermelon
4 tablespoons of olive oil
1 teaspoon of cider vinegar
Instructions
Peel then finely chop the red onion.
Peel the cucumber, then cut into small cubes.
Mix the cucumber with the onion and the rice.
Thinly slice the anchovies then add them to the rice.
Open and drain the tuna and mung beans.
Add them to the salad.
Rinse then dry the basil leaves, finely mince the rice.
Dice the watermelon, then add it to the salad.
Season generously with salt and pepper.
Pour in the oil and vinegar, drain, rectify.
Preparation time: 20 minutes
Cooking time: 0 minutes
Number of people: 4
4 star rating: 1 review
What wine to drink with: Rice salad
My favorite wine for this recipe: Cheverni blanc Cépage Chardonnay, Sauvignon blanc
Temperature between 08 ° and 10 °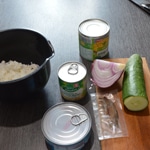 Ingredients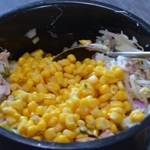 But