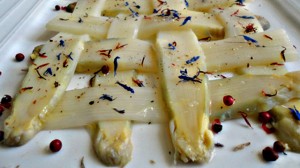 Recipe: Asparagus carpaccio
Asparagus carpaccio recipe with avocado oil, this is a new way of presenting asparagus, I had chosen beautiful purple asparagus. I decorated my asparagus with avocado oil, it came to divinely flavor this king's dish. Asparagus, the vegetable of spring, we also associate it with the sun, it is often a dish that we eat in the garden, under a parasol. When you peel the asparagus started at 4 cm from the tip, use a suitable tool instead, there are special asparagus thrifters. Asparagus carpaccio, I cut them lengthwise with a sole fillet knife, then braided the result was stunning.
Recipe ingredients
Asparagus carpaccio recipe for 2 people:
6 large asparagus
1 teaspoon ground pepper
3 sprigs of fresh thyme
2 tsp of red berries
2 tablespoons of avocado oil.
A few dried cornflower petals.
Salt flower
Instructions
Peel the asparagus starting with the foot and ending with the head, the closer you get to the tip the less you press on your peeler (your peeling must stop 4 cm from the tip).
Cook the asparagus in a large pot of cold salted water for 20 to 22 minutes.
Rinse the asparagus under running water to stop cooking.
Cut the asparagus lengthwise into four strips.
Assemble the plates by crossing the asparagus.
Drizzle avocado oil over the asparagus rows.
Add the red berries.
Salt and pepper.
Sprinkle the blueberry blossoms, just for fun.
Preparation time: 10 minutes
Cooking time: 20 to 22 minutes
Number of people: 2
4 star rating: 1 review
What wine to drink with: Carpaccio asparagus
My favorite wine for this recipe: Cour Cheverry blanc Cépage Romorantin
Temperature between 07 ° and 10 °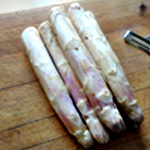 Peel the asparagus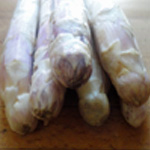 Peaks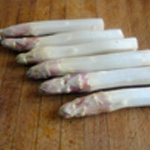 Peeled asparagus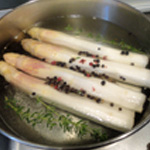 Cook the asparagus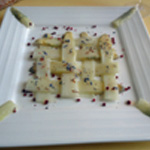 Asparagus