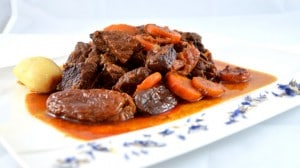 Recipe: Beef with Carrots
Beef and carrot recipe, I like the beef when it cooks gently, here flavored with carrots, the sauce will be a real killer. Choose a piece like the bourguignon, a piece of beef that will withstand several hours of cooking, which can simmer gently. The tomatoes will melt gently into the meat, the paprika will enhance this dish that you can serve with pasta.
Recipe ingredients
Beef with carrots recipe for 6 people:
1 kg of beef bourguignon
2 marrow bones
1 small strip of smoked bacon
1 tablespoon of olive oil
2 tablespoons of double tomato paste
1 tablespoon of olive oil
2 large tomatoes
3 large carrots
1 onion
½ teaspoon of paprika
10 cl of full-bodied red wine
7 sun-dried tomato petals
Salt and pepper
Instructions
Trim the meat, then cut it into large cubes of the same size.
Heat the cast iron casserole dish with a spoon of olive oil.
Sear the pieces of meat and the bones in the cast iron casserole dish.
Grill the meat well on all sides.
Salt and pepper.
Peel the carrots, then cut them into slices.
Peel the onion and cut it into cubes.
Sear the onion in the casserole dish.
Cut the breast into bacon, then grill it with the onions.
Add the double tomato paste.
Cut the tomatoes into eighths, then add them to the casserole dish
Add the paprika.
Salt and pepper.
Add the sundried tomatoes.
Simmer over low heat for 2 hours 30 minutes.
Preparation time: 30 minutes
Cooking time: 2 hours 30 minutes
Number of people: 6
4 star rating: 1 review
What wine to drink with: Beef with carrots
My favorite wine for this recipe: Bourgogne Rouge Grape Pinot Noir
Temperature between 13 ° and 15 °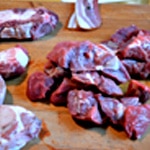 Trim the meat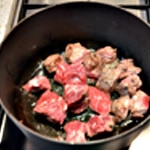 Sear the meat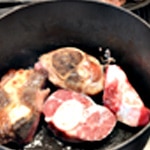 Add the bones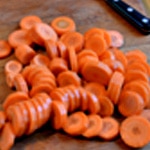 Slice the carrots
Slice the onions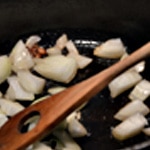 Sear the onions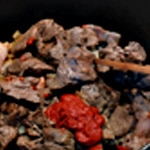 Tomato concentrate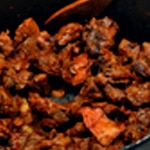 Incorporate well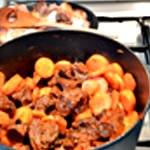 Add the carrots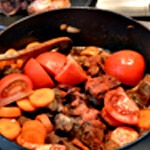 Add the tomatoes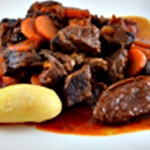 Zoom