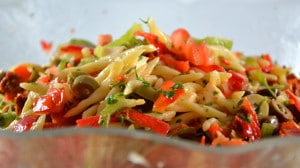 Recipe: Liguri trofie salad
Salad recipe from Trofie Liguri, I love the new collection from Barilla, I love these Italian names that sing as soon as you say them, they lend themselves well to Italian recipes. I like pasta salads, here it was for a friend who won at an associative event. An opportunity for me, with my Trofie Liguri salad, to promote my cooking site. I played on the different flavors, black and green olives, sundried tomatoes, the oil allowed me to make the sauce this way the pasta salad was spicy, Italian pasta. At home, pasta has pride of place in our diet, we like it hot and cold, the choice of shape and the accompanying sauce is always a delicious moment where everyone brings their own touch of madness. But the communion stops there after there is only me in the stove. But I assure you I love it and want more.
Recipe ingredients
Liguri trofie salad recipe for 12 people:
500 g of Liguri trofi.
50 g of chopped parsley.
140 black olives sliced into slices.
140 green olives sliced into slices.
285 g of sundried tomatoes.
375 g of mozzarella.
2 red peppers.
2 green peppers.
3 tomatoes.
1 lemon.
Salt and pepper
Instructions
Drain the sun-dried tomatoes and collect the oil from the tomatoes.
Cook the Trofie Liguri in a large volume of boiling salted water.
Drain the pasta and cool them under the tap of cold water to stop cooking.
Pour the pasta into a large bowl.
Oil the cold pasta with the oil from the sundried tomatoes.
Pour the sliced black and green olives over the pasta.
Finely slice the sun-dried tomatoes into a small rectangle.
Slice the mozzarella into tiny cubes.
Rinse the peppers and tomatoes under the tap.
Cut the red and green peppers into very thin strips.
Cut the tomatoes into small cubes.
Add all the ingredients with the pasta.
Season generously with salt and pepper.
Squeeze the juice of a lemon over the pasta.
Add the chopped parsley.
Stir the salad and chill for a few minutes before eating.
Preparation time: 30 minutes
Cooking time: 12 minutes
Number of people: 14
4 star rating: 1 review
What wine to drink with: Liguri trofie salad
My favorite wine for this recipe: Collioure rosé Grape Grenache noir, Carignan, Cinlsaut
Temperature between 10 ° and 12 °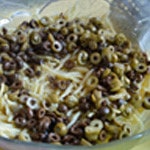 Cook the pasta
Add the sundried tomatoes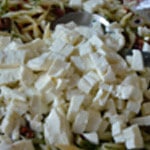 Cut the cheese into cubes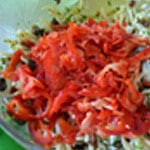 Finely grate the red pepper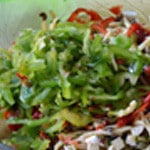 Finely grate the green pepper