Morel spaghetti recipe, a terribly tasty sauce for homemade spaghetti, you will fall for this recipe. The speck ham will bring a little salty touch to the spaghetti with morels. A delicious little Italian touch in this divine dish of fresh pasta. Probably my favorite recipe for homemade pasta. Impossible not to fall for such a fragrant sauce, the speck ham also brings a terrible touch to this dish.
Morel spaghetti recipe for 4 people:
500 g of fresh pasta
50 g of dry morels.
8 slices of Speck ham
2 beautiful shallots
1 tablespoon of chopped parsley.
2 cloves of garlic 25 cl of liquid cream
10 cl of white wine
50 g parmesan
4 basil leaves
4 purple basil leaves
20 g butter
1 teaspoon of olive oil.
Soak the morels in a large volume of lukewarm water.
Grate the Parmesan with the large hole.
Spread the Parmesan on a baking sheet or baking sheet.
Cook at 200 ° grill, watching for 7 to 8 minutes the Parmesan must be well colored.
Make the dough for the spaghetti.
Leave to rest for half an hour.
Roll the dough by passing it several times to make it a little elastic.
Cut the large morels in half.
Rinse the morels several times.
Peel the shallots and garlic.
Cut the shallots into thin slices.
Heat the butter and oil in a pan.
Sear the shallots, then add the parsley.
Press the garlic at the end of the shallots.
Sear the morels in the shallots.
Wet with wine, when the morels have rejected their waters.
Add the cream and let reduce for a good half an hour.
Cook the spaghetti in a large volume of salted water.
Heat the plates.
Finely chop the basil.
Pour the spaghetti on each plate.
Generously pour the sauce over the pasta.
Crumble the Parmesan.
Sprinkle the basil over the pasta.
Place the ham a little crumpled.
Enjoy immediately
Preparation time: 20 minutes
Cooking time: 3 to 5 minutes
Number of people: 4
4 star rating: 1 review
What wine to drink with: Spaghetti with morels
My favorite wine for this recipe: Alsace Pinot noir grape Pinot noir
Temperature between 12 ° and 14 °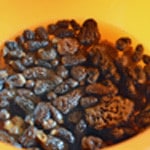 Soak the morels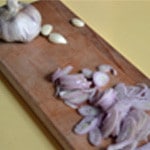 Shallots and garlic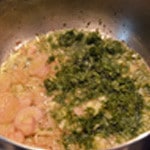 Sear with parsley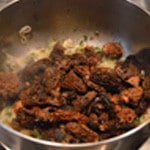 Add the morels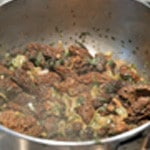 Reduce with white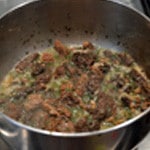 Let it reduce further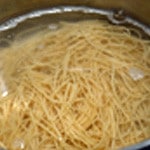 Cook the spaghetti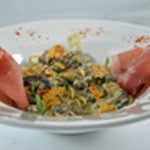 Zoom