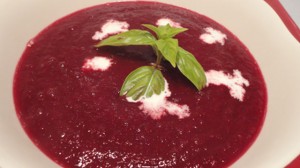 Recipe: Beetroot soup
Beetroot soup recipe, a beetroot soup very rich in color, this red will not leave you indifferent. Beetroot for a rather original soup, your friends will be pleasantly surprised with this entry of the season. Red beets from the garden, I love cooking them as a gratin salad and now as a red beetroot soup. A great idea for an appetizer during a large meal, this red beetroot soup will have its greatest effect on presentation but also with its taste, a real wonder.
Recipe ingredients
Beetroot soup recipe for 4 people:
4 raw beets
1 red onion
1 clove of garlic
1 stalk of celery
2 bay leaves
1 branch of thyme,
2 cm of white leeks
2 small potatoes
1.5 liters of water
1 tablespoon of olive oil
Salt and pepper
½ teaspoon of 4 spices
Instructions
Peel the beets with gloves, then cut them into 8s.
Peel the onion and mince it, roughly chop it.
Peel the garlic clove, cut it in 4.
Heat a saucepan with olive oil.
Sweat the onion and garlic without letting them take color.
Add the beets, the stalk of celery and the white leeks.
Peel potatoes
Cut the potatoes into cubes, then add them with the vegetables
Add with water.
Season with salt and pepper and the spices then cook for 50 minutes.
Mix the soup.
Number of people: 4
Cooking time: 50 minutes
4 star rating: 1 review
What wine to drink with: Beetroot soup
My favorite wine for this Anjou rouge recipe: Cabernet Franc grape; Cabernet Sauvignon
Temperature between 12 ° and 13 °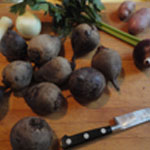 Raw beets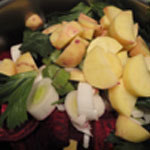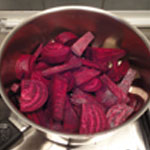 To cut the vegetables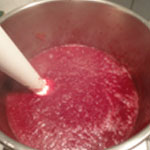 Mixer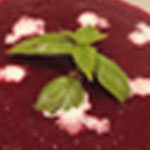 Zoom