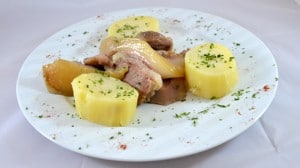 Recipe: Calf's head
Calf's head recipe for a Sunday with friends. Of course we accompanied it with potatoes and especially a warm gribiche sauce. The butcher can prepare the calf's head for you, only the cooking remains to be done, but I wanted to show you how we prepare a calf's head. You can, with the cooking water, make a soup and add the cooking vegetables and maybe some vermicelli, to prolong the pleasure of the calf's head.
Recipe ingredients
Calf's head recipe for 6 people:
½ calf's head with tongue, about 2 kg 200
1 leek
3 carrots
2 cloves garlic
1 onion
Thyme
Laurel
2 tablespoons of flour
Instructions
Disgorge the calf's head in water, just a first broth.
Rinse the calf's head under the tap.
Scrape the muzzle with a knife blade if necessary.
Tie up the calf's head or have it done by your butcher.
Peel the carrots then cut into small cubes.
Peel the onion, then cut into small cubes
Peel the garlic, then crush them with the flat of the knife.
Peel the leek and cut into four then into small slices
Pour the flour into a bowl, cover with water and whisk to incorporate the flour (a blank)
Fill a cast iron casserole dish halfway with water.
Incorporate the white into the simmering water of the casserole dish.
Add all the vegetables, thyme and bay leaf.
Gently place the calf's head so that it is well covered.
Let the water simmer then allow about 3 hours for cooking.
Heat the plates to serve the calf's head.
Warm the gribiche sauce slightly.
Cut the string and slice the calf's head.
To accompany it, I recommend a gribiche sauce
Preparation time: 30 minutes
Cooking time: 3 hour (s)
Number of people: 4
4 star rating: 1 review
What wine to drink with: Calf's head
My favorite wine for this recipe: Morgon Grape gamay
Temperature between 13 ° and 14 °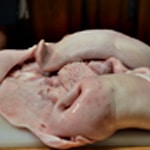 Trim the 1/2 head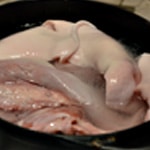 Make a first broth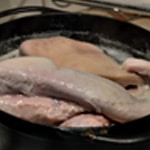 Stop at the first broth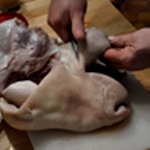 Scrape a little with a blade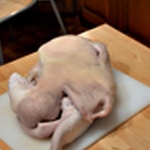 Head ready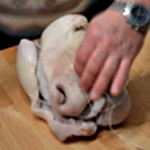 Roll your head with the tongue inside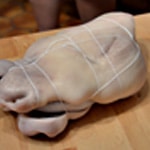 Tie the head securely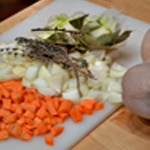 Slice the vegetables into small cubes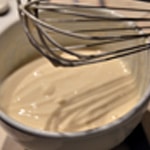 Mix the white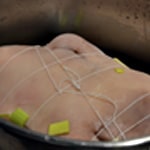 Put your head in the fact everything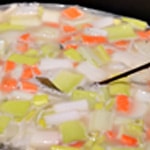 Pour in the white and the vegetables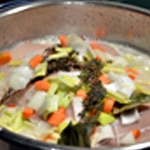 Leave to cook in a small broth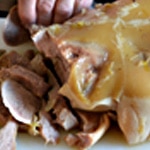 Slice the calf's head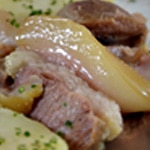 Zoom<img src="/wp-content/uploads/2021/09/9091358331615444277.jpg" class="aligncenter"