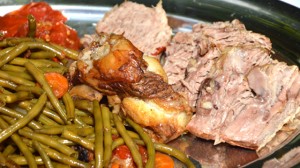 Roast veal recipe
Recipe roast veal in a cast iron casserole dish, long cooking in a not too hot oven, the meat will roast with the vegetables, which will reject a little water to enhance the sauce. I also like the bones that roast in the casserole dish and delicately flavor the sauce, along with the carrots, onion and jacketed garlic. Roast veal cooking, I chose a rather long cooking time in a not too hot oven, in fact 3 hours for my roast, it may seem long, but it was soft, tender and delicately scented, I will do it again without problem.
Recipe ingredients
Recipe for 6 people: Roast veal
1.2 kg of veal
3 large veal bones
1 carrot
1 onion
2 shallots
5 cloves of garlic, lined
2 tbsp of soy
20 cl of white wine
4 tomatoes
1 tablespoon of olive oil
Instructions
Roast the bones in olive oil.
Peel, onions and shallots
Cut the onion into quarters, then add it to the casserole dish.
Cut the shallots in half, then add it to the casserole dish.
Grill the roast on all sides in the casserole dish.
Pour in the white wine and soy sauce.
Place the garlic lined with the onions.
Cut the tomatoes into quarters, then place them in the casserole dish.
Garnish with the beans and potato.
Bake at 150 ° for 3 hours in the oven.
Preparation time: 20 minutes
Cooking time: 2 hours 30 minutes
Number of people: 6
4 star rating: 1 review
What wine to drink with: Roast veal
My favorite wine for this recipe: Côte de Blaye red Merlot grape, Cabernet franc, Cabernet sauvignon
Temperature between 15 ° and 17 °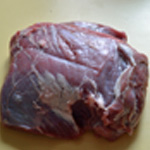 The roast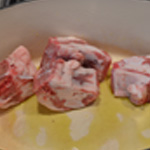 Grill the bones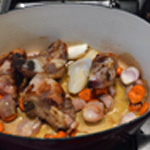 Add the vegetables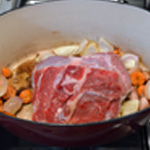 Grill the roast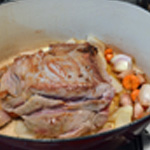 Grill on all sides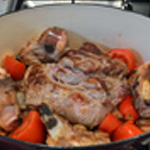 Add the tomatoes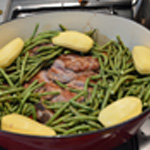 Add beans and potatoes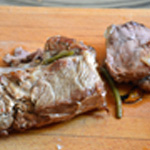 Slice the roast once cooked