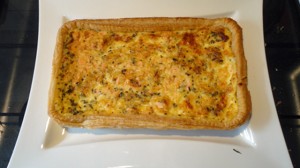 Recipe: Easy Salmon Pie
Easy to eat hot or cold salmon pie recipe, you can enjoy it however you like. A fresh salmon pie on a puff pastry flavored with fresh coriander, served with a small green salad. Fresh salmon remains an affordable fish and we often find promotions in supermarkets.
Recipe ingredients
Easy salmon pie recipes for 6 people
300 g of puff pastry
250 g of salmon
1 teaspoon ground cumin
20 cl of fluid fresh cream
1 tablespoon of flour
2 teaspoons of chopped fresh coriander
1 egg
100 g of Comté.
20 g butter
Instructions
Roll out the puff pastry.
Butter and flour the pie plate.
Cook for 5 minutes in a hot oven at 180 ° the salmon sprinkle with cumin.
Break the egg into a bowl, pour in the fluid cream.
Crumble the salmon and mix it with the cream and the egg.
Grate the county and mix with the preparation, add the coriander.
Pour the salmon mixture into the pie pan.
Place the tart in the hot oven at 180 ° for 30 minutes.
Preparation time: 20 minutes
Cooking time: 30 minutes
Number of people: 6
4 star rating: 1 review
What wine to drink with: Easy salmon pie
My favorite wine for this Sylvaner recipe Grape variety: Sylvaner
Temperature between 08 ° and 10 °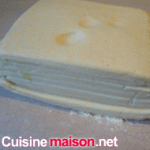 Roll out the dough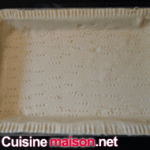 Butter and flour the mold
Precook the salmon
Chop the cilantro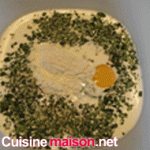 Add the parmesan
Add county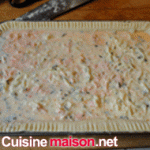 Easy salmon pie Ready to bake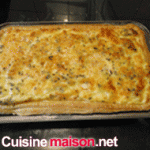 Easy Cooked Salmon Pie