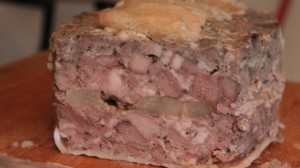 Recipe: Wild boar terrine
Recipe for wild boar terrines and homemade pâtés. Recipe for cooking wild boar in a terrine, marinated with a rib of Blaye overnight, the wine will lightly flavor the meat of the terrine. Wild boar paste terrine with the opening of the hunt the gift of my hunter friend, a beautiful piece of wild boar, I just have to prepare a homemade terrine for him.
Recipe ingredients
Recipe Wild boar terrine for 10 people
600 gr of wild boar
300 gr of loin ribs
200 gr of gorges
100 gr of chicken liver
150 gr smoked bacon
1 strainer
2 tablespoons of cognac
40 cl of Côte de Blaye
2 shallots
2 cloves garlic
½ bunch of parsley
3 sprigs of thyme
5 bay leaves
2 cloves
21.5 g fine salt
04.1 g of pepper
Instructions
Denote the wild boar and cut it into small pieces.
Bone the rib of loin and cut it into small pieces.
Peel and slice the carrots.
Peel the onion, shallots and garlic cloves, cut them into four
In a salad bowl, place the pieces of wild boar and pork, add bay leaf, thyme and vegetables.
Cover with Côte de Blaye wine, so that the flesh is covered.
Film and reserve in the refrigerator for 24 hours, stirring the meat a little.
Cut the pork throat into small pieces.
Wipe the marinated meats.
Chop the meat and vegetables with a grinder, then salt, add the spices, mix the meat and the spices well.
Mix by hand, kneading the meats well to distribute the salt and pepper.
I used a number 2 terrine.
Place the toilet at the bottom of your bowl, letting it protrude well.
Load your terrine with the macerated preparation until the middle of the terrine.
Place the smoked bacon bards in the middle of the terrine.
Finish filling your well-loaded terrine, then press with your fist, close with the terrine.
Bake in a cold oven at the start, in a bain-marie for 2h15 at 150 °.
Preparation time: 40 minutes
Cooking time: 2 hours 15 minutes
Number of people: 10
4 star rating: 1 review
Which wine to drink with: Wild boar terrine
My favorite wine for this Côte de Blaye Grape variety recipe: Merlot, Cabernet Franc and Cabernet Sauvignon.
Temperature between 15 ° and 16 °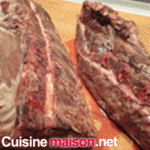 Bone the boar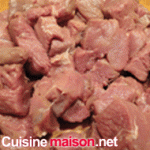 Cut the wild boar with a knife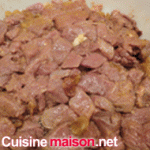 Cut the pork
Leave to marinate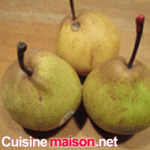 The wuilliams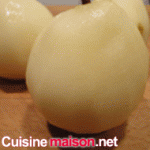 Peel the pears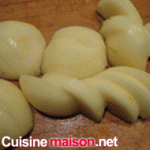 Slice the pears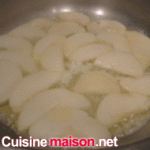 Confection of the pears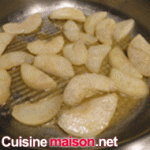 Turn the pears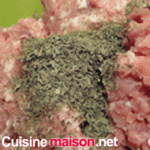 Salt and pepper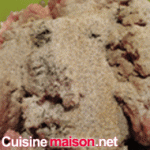 Spice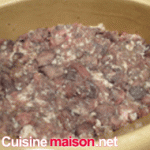 Half fill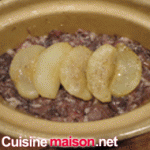 Candied pears<img src="/wp-content/uploads/2021/09/5038430308911126819.jpg" class="aligncenter"