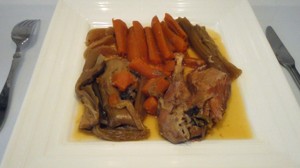 Recipe: Chicken in the pot
Recipe chicken in the pot, a childhood memory with a chicken in the pot served just with the broth and vegetables. I did not make supreme sauce this time for my chicken in the pot, but frankly with the taste of vegetables and broth a real treat for lovers of chicken in the pot. Chicken in the pressure cooker pot for once I used my pressure cooker to cook my chicken in the pot, I was running out of time and especially the space in the pots.
Recipe ingredients
Chicken in a pot recipe for 4 people:
3 liters of water
1 hen between 1 kg 200
1 bar of chicken stock
1 branch of celery
3 onions
4 cloves of garlic
3 carrots
3 turnips
3 leeks
4 sprigs of parsley
10 cloves
1 large tablespoon of red berries
2 tbsp mixed peppercorns
5 cl of Armagnac
10 cl of white wine
4 bay leaves
2 teaspoons of coarse salt
Instructions
Peel the onions and garlic.
Prick the cloves in the onion.
Wash the vegetables in plenty of water.
Peel the carrots and turnips then cut them in 4 lengthwise.
Cut the celery stalk lengthwise.
Cut the leeks in half and then in 4, still lengthwise.
Stuff the hen with the juniper berries.
Place the vegetables in a pot.
Peel the garlic and add it to the vegetables.
Tie the hen, wings and thighs well glued to the body.
Place the hen on the vegetables, choose the smallest saucepan so as not to add too much water.
Dilute the broth tablet in a little lukewarm water then add it to the chicken broth.
Pour in the cognac and white wine.
Add the bay leaf.
Cover with water.
Heat, from the first bubbles lower the heat in order to have a gentle cooking.
Simmer 2:30 to 3 hours.
Or like me this time, I used the pressure cooker cooking 1 hour.
Take out the hen once cooked, with delicacy the hen is fragile after cooking.
Preparation time: 20 minutes
Cooking time: 2:30 to 3 hour (s)
Number of people: 4
4 star rating: 1 review
What wine to drink with: Poule au pot
My favorite wine for this recipe: Aloxe corton rouge Pinot noir grape
Temperature between 16 ° and 17 °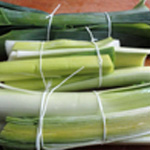 Tie the leeks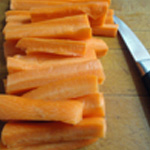 Cut the carrots into sticks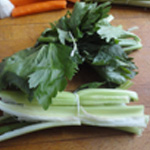 Tie up the celery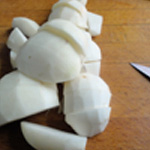 Cut the turnips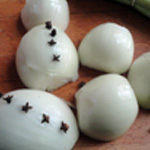 Prick the nail onions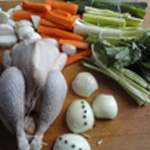 the hen and the vegetables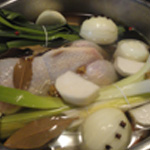 Cover with water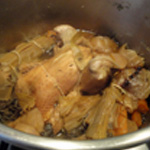 Cooked hen in pot