Feta Brick Recipe
Summary : Brick recipe with feta for dinner aperitifs, served lukewarm, they will be crispy. Brick recipe a light sheet that lends itself to the whims of the most experienced cooks. The feta brick just a little spiced up with Espelette pepper will only make a mouthful for the pleasure of young and old. Brick cuisine lends itself as much to sweet as to salty caramelized with sugar or au gratin with Parmesan, it complies with all your requirements. I prefer to work with round sheets of brick pastry and especially not folded, pay attention to the expiration date because the sheets of brick dry quickly. Brick pastry recipe, be careful you must seal the bags of the pastry sheets tightly, in fact they dry quickly.
Recipe ingredients
• Recipe for: 4 people
• 4 round pastry sheets
• 150 gr of feta
• 1 pinch of Espelette pepper
• 20 gr of butter
• Salt and pepper
Instructions
1. Take out a pastry sheet and close the package.
2. Cut 4 cm long strips.
3. Cut 1 cm cubes of feta directly from the box.
4. Season the feta with salt and pepper.
5. Pre-fold the brick strips in the shape of a triangle as in photo 1
6. Place a cube of feta on the beginning of the strip.
7. Fold the strip over the feta cube.
8. Fold up triangle by triangle, always closing the open part.
9. Place your triangles on a baking sheet.
10. Lightly butter your preparations using a brush;
11. Sprinkle with Espelette pepper.
12. Place in a hot 200 ° oven for 10 to 12 minutes.
13. Eat warm or cold.
Preparation time: 30 minutes
Cooking time: 10 minutes
Number of people: 4
4 star rating: 1 review
Brick à la feta, these are small triangles that are devoured during dinner aperitifs. Crunchy in the mouth, then comes the taste of feta.
What wine to drink with Brick à la feta
My favorite wine for this Alsace Riesling Grape variety: Riesling
Temperature between 08 ° and 10 °
Thanks to Thibaut for these wonderful photos.
Fold the brick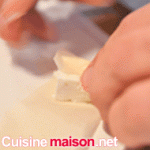 Drop a cube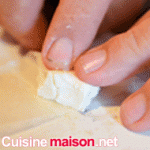 Fold back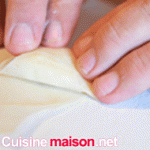 Form a triangle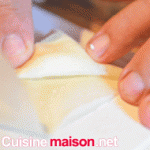 Tighten well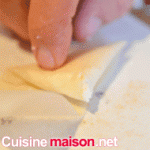 Press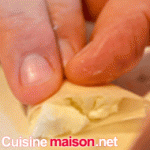 Press well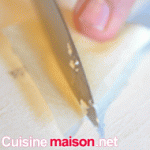 To cut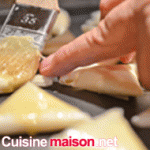 Butter lightly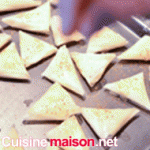 Sprinkle with chilli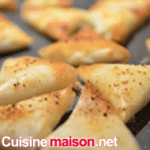 Slightly crispy