Buckwheat Bread Recipe
Summary: When you start to bake your bread, you quickly realize that you eat it every day. I also really like to present new breads with different shapes, tastes and colors. Buckwheat bread a fairly black flour, which gives a flavor and a particular color to this bread. Almost a tribute to Brittany which is one of the major consumers of buckwheat flour, I will make pancakes later. Buckwheat Bread recipe for 4 baguettes
Ingredients :
450 gr of flour type T65
50 gr of buckwheat flour
325 gr of water at 20 °
100 g of liquid sourdough (or 25 g of dehydrated sourdough)
3 gr of fresh baker's yeast
Instructions
Preheat the oven to 230 °, with a plate at the bottom, to receive the water.
Pour the flour and water into the robot's bowl.
Mix 4 minutes at slow speed and the liquid sourdough.
Add the yeast and salt.
Mix for 5 minutes at low speed.
Then mix for 10 minutes at high speed.
Form a ball.
Cover with a damp cloth and let stand for 1 hour.
Fold the two sides by expelling the air.
Cover with a damp cloth again and let stand for 1 hour.
Flour the work surface, cut the dough into 4 equal pieces.
Roll them up slightly to lengthen them slightly, leave to rest for 15 minutes.
Gently flatten the dough pieces with the flat of your hand.
Fold the dough pieces 1 third over a third.
Place under a damp cloth for 1 hour, the dough will gain volume.
Turn the dough over.
Place the rods under a welding cloth underneath.
Gently place the chopsticks under food paper, solder underneath.
Flour them and give 4 strokes lengthwise with the blade.
Bake for 20 minutes, adding the water to the bottom of the oven.
Leave the breads to cool on a rack out of the oven.
Preparation time: 2 hours 35 minutes
Cooking time: 20 minutes
Number of people: 4 baguettes
4 star rating: 1 review
What wine to drink with: Buckwheat Bread
It will depend on what you serve as a main course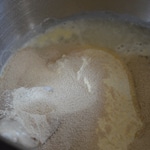 Mix the flours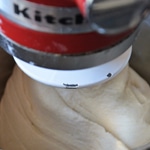 Knead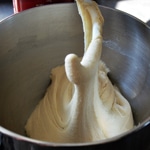 The dough is smooth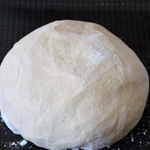 Let it grow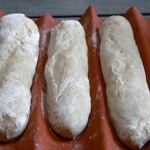 Let rise