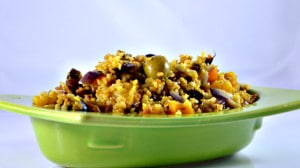 Recipe: Bulgur and dried fruits
Bulgur and dried fruit recipe, ideal to accompany a small poultry, slightly sweet, it will appeal to lovers of sweet salty. I will also test this recipe as a cold salad with a barbecue of meat or fish, just a drizzle of olive oil and the juice of a lemon. Bulgur of Turkish origin made its appearance in France around 1940, it is now part of Turkish, Armenian and Greek cuisine.
Recipe ingredients
Bulgur and dried fruit recipe for 6 people:
280 g Bulgur, about 2 glasses of Nutella
1 tablespoon of olive oil
6 slices of ginger
1 teaspoon of raz el hanout
15 black olives
5 green olives
4 large dates
1 red onion
10 dried apricots
50 g of raisins
Instructions
Peel the onion then finely chop it.
Sear the onion in olive oil.
Add the bulgur, let it toast a little.
Sprinkle with the raz el hanout.
Add double the volume of water and cook for 12 minutes.
Cut the dried apricots into small cubes, then add to the bulgur.
Pit the dates, then cut them in four lengthwise, then into cubes, then add to the bulgur.
Pour the raisins over the bulgur.
Add the black and green olives.
Preparation time: 30 minutes
Cooking time: 12 minutes
Number of people: 6
4 star rating: 1 review
What wine to drink with: Bulgur and dried fruits
My favorite wine for this recipe: Rosé Corse grape Sciaccarello, Nielluccio
Temperature between 08 ° and 10 °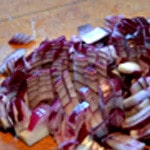 Cut the onions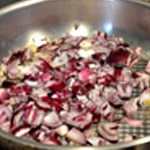 Sear the onions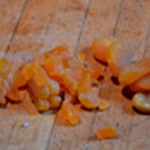 Cut the apricots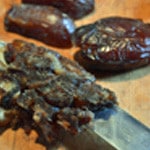 Cut the dates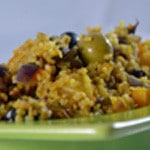 Zoom